Another Ozymandias Moment, Take 683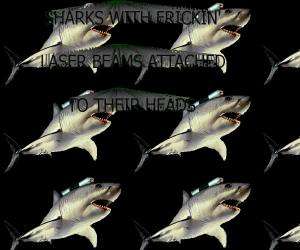 Baylen Linnekin sends word of the latest conspiracy theory emanating from the 51st state: That the U.S. has dumped sharks in the Euphrates River. From a Reuters account:
Karim Hasan Thamir said he was fishing with his sons last week when they spotted a large fish thrashing about in his net. "I recognised the fish as a shark because I have seen one on a television programme," he told Reuters.

The shark was pulled from the mouth of an irrigation canal that joins the Euphrates River. The Euphrates joins the Tigris River further east to form the Shatt al-Arab waterway which flows south past Basra into the Gulf.

Dr Mohamed Ajah, assistant dean of the college of science at Thi Qar University in Nassiriya, said barriers in river estuaries usually prevented sharks swimming upstream.

"In this case, I think this animal was there for a long time but no one had managed to see it," he said.

Locals blamed the US military for the shark's presence.

Tahseen Ali, a teacher, said there was a "75 per cent chance" Americans had put the shark in the water.

"This is very frightening for us. Our children always swim in the river and I believe that there are more sharks. I believe that America is behind this matter," said fisherman Hatim Karim.
I really doubt that the U.S. is responsible for the shark (and if it is, why don't the goddamn sharks have frickin' laser beams on their heads?). Then again, after that totally frickin' weird fake FEMA press conference, in which agency employees impersonated reporters (what, Jeff Gannon was unavailable?) and after a massive invasion in which there were no contingency plans for an occupation gone awry, who the hell knows?
Though I'm a seafood lover, I think that fishermen rank right down there with taxicab drivers as crappy journalistic sources, and Hatim Karim's comments are best understood as illustrating a conspiracist mindset that is widespread in the Middle East and Muslim world more generally. Chief among that mindset is an overly generous willingness to blame America (tool of Zionists) for everything bad in the region, from the poverty to the weather to, well, sharks showing up in the Euphrates. Which, given our recent history there, isn't all that much of a stretch.