In Praise of Johnny Rotten, Again.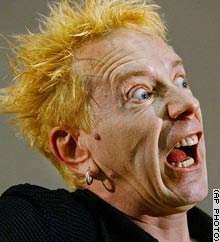 Fox News Red Eye host (and friend of reason) Greg Gutfeld has an absolutely fantastic col in the American Spectator about a night on the tiles with former (and future) Sex Pistols front man Johnny Rotten. A snippet:
Johnny Rotten might be the most honest person in music—unafraid of saying things that send the left into epileptic seizures. Don't get him started on Nelson Mandela, in Rotten's mind a terrorizing thug romanticized by the ignorant left and glamorized by a stint in jail. He said as much on a British talk show, and it got him banned for years, he tells me. To him, Mandela is only equaled in idiocy by Bono, who Rotten believes has done nothing to help the poor in Africa—those starving millions he keeps soliciting money for. "All I ask is, where is the money! It's a bloody simple question! Bono has done no good."

ROTTEN HATES EVERYTHING intellectually lazy, from the fat and stupid editors at Rolling Stone to the Hollywood liberals he encounters everyday back in his Venice Beach community. "You wouldn't believe the idiocy," he tells me on his umpteenth beer or vodka drink. "Imagine me at a parent/teacher conference trying to explain to them how to speak proper bloody English!"
Gutfeld pokes a stick at the corpse of punk and uncovers its secret shame–and secret source of energy:
I am probably nuts—but I always sort of thought that the punk movement made Ronald Reagan more than a bit possible. The punks may have been rude and snotty, but they were just so much more real—so much less delusional and besotted—than the hippies were. It's no secret that the punks happened because the hippies failed. By killing the silly, bucolic, utopian hippy ethic, the punks allowed for a sober reassessment of all that '60s crap. And the result was a restoration of America's faith in itself, a new embrace of genuine reality and not some Shangri-la over the horizon somewhere. Like the Ramones and the Sex Pistols, conservatism was realist, urban, and tough. And that got us Reagan, and ended the Soviet Union.
If nothing else, Gutfeld gets the chronology right: Reagan and Thatcher came after the first wave of punk. They were emanations from Steve Jones' and Johnny Ramones' guitars, not the targets of sonic attacks (at least not originally; that would come later). It's always frustrating to hear musicians and fans from the mid-'70s anachronistically describing their music as an attack on leaders not yet elected. Back sometime before the tech bubble burst, I had the great privilege of being interviewed by Rotten on his web radio show on Eyada (sadly, the audio has vanished as completely as Siouxsie Sioux's swastika fetish), during which he granted that Thatcher was indeed the first punk PM (scroll down) of England.
One more reason to still love the Sex Pistols.
Update: Reader de stilj points to the current issue of SPIN, which is celebration of 1977 and is a great read. Two articles, both available online are especially worth checking out. First is an interview with Rotten and second is a wonderful essay by celebrity chef Anthony Bourdain. A snippet from the latter:
When I think back on those years, I remember, of course, all the great music-a true embarrassment of riches. But I also remember pain-1977 smelled of burning candles in an abandoned building, fermenting garbage, uncollected in the street. The bitter, delicious taste of heroin in the back of my throat. The bathroom of CBGB, awash in turds, glassine bags, condoms, and used works.

And Jethro Tull was still playing on the radio.
Tremendoid profile of Bourdain in Doublethink here.