Bush's Speech Last Night and Reactions To Same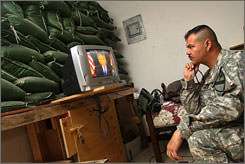 Move over Britney Spears–an even more recent soporific TV appearance has wiped the memory of your bomb performance at the VMA.
We're talking about President Bush from last night, where he failed to manage even Max Headroom level hurrahs from his tiny audience:
In a televised speech last night, President Bush said his "surge" strategy has produced positive results, which will allow the US to cut the number of troops in Iraq. The Washington Post say on the front page that Bush coined a new slogan to describe his latest strategy, 'Return on Success,' meaning that further progress will enable further withdrawals." However, Bush's remarks, in which he endorsed the recommendations of Gen. David Petraeus, are receiving generally skeptical coverage. The Washington Post says Bush "made a case for progress in Iraq by citing facts and statistics that at times contradicted recent government reports or his own words." On MSNBC, Chris Matthews said, "The idea we're one of 36 countries fighting the war I think is ludicrous and why the President would throw that out there, I think it only opens him up to ridicule."
The presidential candidates weigh in here. Snippets:
FORMER REPUBLICAN MASSACHUSETTS GOV. MITT ROMNEY:

"President Bush understands that our most crucial objective in Iraq is to make sure it does not become a safe haven for al-Qaeda and Jihadist terrorists. But that's just what would happen if Hillary Clinton, Barack Obama and John Edwards have their way. Our troop presence has emboldened Sunni leaders to resist al-Qaeda. This is progress—important progress."

DEMOCRATIC SEN. HILLARY CLINTON OF NEW YORK:

"What the president told the American people tonight is that one year from now, there will be the same number of troops in Iraq as there were one year ago. That is simply too little too late, and unacceptable to this Congress and the American people who have made clear their strong desire to bring our brave troops home."

FORMER REPUBLICAN SEN. FRED THOMPSON OF TENNESSEE:

"Every day, our troops in Iraq demonstrate a heroic resolve to win. I wish Democrats in Washington would dedicate as much time and energy to winning as they do on how to surrender the fight."

DEMOCRATIC SEN. CHRISTOPHER DODD OF CONNECTICUT:

"Not only is the president not offering us anything new; he's insulting our intelligence."
And let's be clear: When you're insulting Chris Dodd's intelligence, you've already given in to the soft bigotry of low expectations.