Richard Jewell, 1962-2007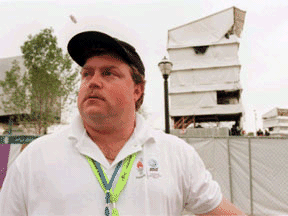 Richard Jewell, the man unjustly accused of planting bombs at the 1996 Olympics, has passed away at age 44. As a security guard Jewell actually discovered a pipe bomb and helped evacuate Centennial Olympic Park before becoming the focus of wild speculation.
The best thing written about Jewell was Marie Brenner's 1997 Vanity Fair profile (PDF), a brilliant piece of journalism assigned to students when I was studying at Medill. But Jewell's name doesn't usually evoke memories of good journalism. It evokes the opposite: Nasty, herd-chasing yellow journalism that can destroy lives and reputations. The Atlanta Journal-Constitution, which put the mark of Cain on Jewell, can walk away from Jewell's case now having never settled with him. As for the FBI, which marked him as a "person of interest"… I can't name any mistakes they've made since then, can you?
In 2005 Nick Gillespie slammed the jail door on Eric Rudolph, the real Olympic Park Bomber. In 2006 Georgia Gov. Sonny Perdue commended Jewell's heroism.