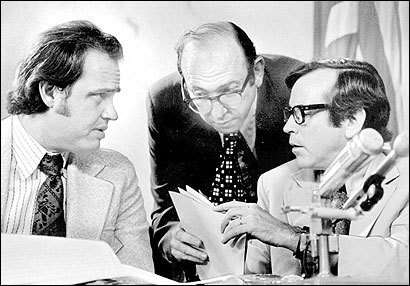 Michael Kranish snagged a copy of Fred Thompson's Watergate memoir (now priced at $200—and published by The New York Times Book Company!) and discovered some holes in Thompson's current, heroic memory of his gig as a minority counsel.
Thompson tipped off the White House that the committee knew about the taping system and would be making the information public. In his all-but-forgotten Watergate memoir, "At That Point in Time," Thompson said he acted with "no authority" in divulging the committee's knowledge of the tapes, which provided the evidence that led to Nixon's resignation. It was one of many Thompson leaks to the Nixon team, according to a former investigator for Democrats on the committee, Scott Armstrong, who remains upset at Thompson's actions.
"Thompson was a mole for the White House," Armstrong said in an interview. "Fred was working hammer and tong to defeat the investigation of finding out what happened to authorize Watergate and find out what the role of the president was."
Kranish's reporting portrays Thompson as a weasel and a glory hound. After the WH's taping system was divulged in private testimony Thompson told the Nixonites about the discovery, then got to ask Alexander Butterfield about the tapes on live TV.
The story's a little light on Thompson pushback, but don't blame Kranish. When he asked for comment, Thompson loosened his belt and unleashed a thundering, Havana-scented belch:
Asked about the matter this week, Thompson—who is preparing to run for the 2008 Republican presidential nomination—responded via e-mail without addressing the specific charge of being a Nixon mole: "I'm glad all of this has finally caused someone to read my Watergate book, even though it's taken them over thirty years."
Unsurprising. Thompson's strategy is all about talking past the media to the Republican establishment, for whom being a towering presidential sycophant—he stuck up for Nixon and Scooter!—is no bad thing.