Cory Booker v. the Drug War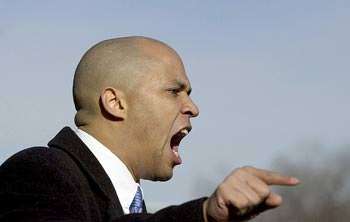 I interviewed Newark, New Jersey Mayor Cory Booker last May, shortly before he won an easy election and took over the city. He's had a rough first year in office with murder rates climbing even as other crimes taper off. The reason, he thinks, is idiotic law enforcement spurred by the war on drugs.
"I'm going to battle on this," the mayor says. "We're going to start doing it the gentlemanly way. And then we're going to do the civil disobedience way. Because this is absurd.

"I'm talking about marches. I'm talking about sit-ins at the state capitol. I'm talking about whatever it takes."

He wants to reserve prison cells for those who do violence and divert the nonviolent drug offenders into treatment programs and halfway houses.

He wants to change the New Jersey laws that bar many ex-cons from getting a driver's license. He wants a black kid from Newark who sells marijuana to clear his record as easily as the white kid from the suburbs who buys it.

He wants to stop banning ex-cons from such a long list of jobs, including warehouse jobs at the nearby airport.

The scale of the problem is staggering: About 1,500 convicts are released from state prison to Newark each year, and 1,000 of them will likely be arrested again within three years — mostly for drug crimes.

"The drug war is causing crime," Booker says. "It is just chewing up young black men. And it's killing Newark."
Democrats run everything in New Jersey now but they're not helping out Booker. A 2005 proposal (by a Booker-friendly judge) to reduce the size of "drug free" school zones from 1000 to 200 square yards was ignored by Booker's party but inspired a Republican measure to increase penalties. Just as predictably Booker's stirred up frenzied opposition in his city, but a "Recall Booker" rally last week was mostly incoherent and the machine politicians who oppose him are out of gas. Check out Reasonoid Damien Cave's interview with Booker's 2006 opponent Ron Rice from the run-up to election day. Cave: "What are the top three policy differences between you and Mr. Booker?" Rice: "Well, I have more experience."