Attn, DC Reasonoids: Happy Hour, ¡¡ESTA NOCHE!! Tuesday, June 19. Special Guests: Brink Lindsey, Rogier van Bakel & Reason's Michael Moynihan!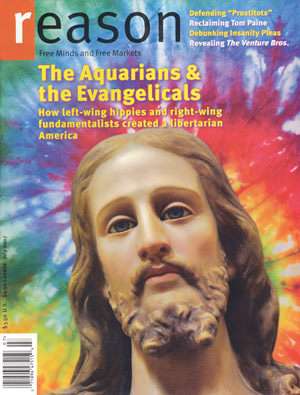 Please join Nick Gillespie, Jesse Walker, Radley Balko, Kerry Howley, Katherine Mangu-Ward, David Weigel, and Ronald Bailey for drink specials and a summer hors d'oeuvre cookout on Tuesday, June 19, 2007. We'll be gathering on the 18th Street Lounge patio (1212 18th St., NW) to celebrate:
* The publication of our July issue, featuring stories about "how left-wing hippies and right-wing fundamentalists created a libertarian America"; "what science can, and can't, tell us about the insanity defense"; "the contested legacy of the most controversial founding father," Thomas Paine; and much more.
* Yet another record-setting month at Reason Online. We pulled a whopping 2.6 million visits and 10.8 million page views in May.
* Being a finalist in the Western Publications Association "Maggie" Awards for best "politics and social issues" magazine. Also, for our strong showing at the Los Angeles Press Club's 49th annual Southern California Journalism Awards. Hit & Run won the prize for best group weblog. Additionally, Senior Editor Radley Balko was a finalist for best investigative magazine story ("The Case of Cory Maye"), as was former Web Editor Tim Cavanaugh for best entertainment review/column/criticism ("Happy 40th Birthday, Star Trek") and Editor-in-Chief Nick Gillespie for best online column/commentary/criticism (various).
The evening features these special guest stars:
* Age of Abundance author and Reason Contributing Editor Brink Lindsey. Brink is vice president for research at the Cato Institute–and the man responsible for our July cover story on "The Aquarians and the Evangelicals."
* Rogier van Bakel, proprietor of the excellent weblog, Nobody's Business.
* Reason magazine's newest staffer, Associate Editor Michael C. Moynihan, late of the Swedish-based think tank Timbro and The Stockholm Spectator.
* Reason Foundation's new program manager, John Vaught LaBeaume.
Reason is happy to welcome the folks from the Marijuana Policy Project's happy hour!
The fun starts at 6.30 and ends whenever you say it does.
Free copies of the July issue and Reason stickers, too.
The 18th Street Lounge is located at 1212 18th St., NW, near the intersection of Jefferson Pl., 18th St. and Connecticut Ave., NW. Look for an unmarked door next to a mattress store. Walk on up and out to the back patio.
All you Facebook kids, go ahead and RSVP here.
If you would like to be put on an Evite list for Reason's DC happy hours, please send an email to events@reason.com.