Jerry Falwell, 1933-2007: Survived by Wife, Three Children, and Larry Flynt
The Rev. Jerry Falwell died today after being found unconscious in his office.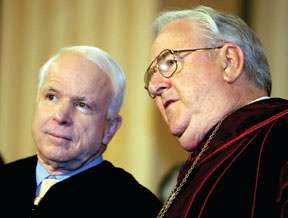 Reason's reporting on the evangelical icon and founder of Liberty University—home of some of the best female basketball and debating teams this republic has ever produced—was copious. In 2005, Ronald Bailey reported from a creationism conference that Falwell organized. This past March Jeff Taylor reported on his surprising (and accidental) good works for pagans. Much more Falwell here.

The Onion's take on Falwell, post-9/11, right here.
Fark.com thread here. Best bit so far:
the singer from Jane's Addiction died? who?
Fact file on 6'8" Liberty alum and WNBA superstar Katie Feenstra here.
Quick question: Whose opinion on this are you most excited to hear?
1) Christopher Hitchens
2) The Westboro Baptist Church
3) Larry Flynt
4) These cute little guys