Attn, DC Reasonoids: Happy Hour, Thursday, May 10! Special Guests: The Free State Project's Leaders!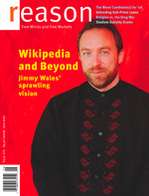 Join us tonight to celebrate publication of Reason's June issue, which features great stories on Wikipedia's Jimmy Wales, all the presidential candidates, stadium subsidy scams, the real legacy of Ronald Reagan, and much more.
We're also celebrating two straight months of record-setting traffic at Reason Online, where we're now pulling 2.4 million visits a month.
Special Guests: Come meet the folks heading up The Free State Project: Varrin Swearingen, Rich Heller, and Spear Lancaster.
Read Reason's coverage of FSP here.
As always, it's a cash bar, and we'll be handing out copies of the mag and Reason stickers too.
Details:

When: Thursday, May 10, 6.30PM

Where: Upstairs at Dragonfly, 1215 Connecticut Avenue, NW, Washington, DC
If you would like to be put on an Evite list for Reason's DC happy hours, please send an email to events@reason.com.