The Kick of a (Really Weak) Cocktail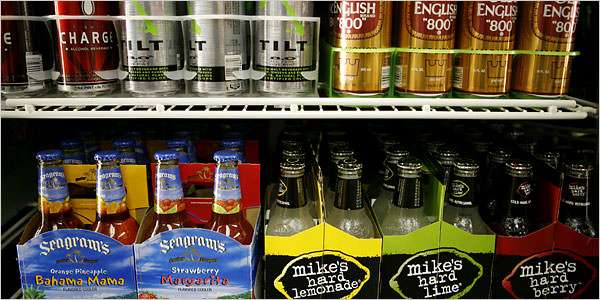 On Friday The New York Times ran a surprisingly balanced story about the crusade against "alcopops," flavored malt beverages such as Mike's Hard Lemonade and Smirnoff Ice that supposedly entice teenagers into drinking because they taste so darned good. In addition to noting (in the 16th paragraph) a 2003 Federal Trade Commission report that "found no evidence that the industry had intentionally focused on minors," the Times undermines the anti-alcopop thesis with some teenager-in-the-hallway interviews:
At McClatchy High School here in Sacramento, several students acknowledged that drinking was common but they described alcopops as the drink of last resort.

"Most high school students drink with a purpose: to get drunk," said Nina Hankard, 17, a senior. "Alcopops are not very effective unless you are a lightweight."

She and several other girls said teenagers prefer shots of whiskey or vodka, chased with soda.

Julia Jones, 17, said drinking a syrupy beverage seemed counterproductive.

"Personally, I want to get the drinking part over with," Ms. Jones said. "You want something fast. It's not about walking around, nursing a drink."

Ms. Hankard said her earliest experience with drinking involved an alcopop. But the drink was not exactly a stepping stone.

"Kids don't need a transfer drink," she said. "They are going to go to hard liquor anyway. It's not like we need to be trained."
This almost makes up for the lead, which describes the object of activists' ire as "flavored alcoholic beverages that look and taste like soda but offer the kick of a cocktail." Since a "cocktail" can have any alcohol content at all, ranging from zero for a Shirley Temple to nearly 50 percent for a dry martini, this is not, strictly speaking, false. But it is certainly misleading, since the alcohol content of flavored malt beverages is 5 percent or so, about the same as beer.
That is why the California proposal to classify and tax these drinks at the same rate as liquor makes no sense.  "If beer has alcohol in it, it's a distilled spirit," one supporter of the 1,550-percent tax hike tells the Times. "It doesn't matter what you start with. You look at the end product." Since all beer has alcohol in it, he presumably means added alcohol. But according to the manufacturers, any added alcohol in these products comes from flavorings; the main source of the alcohol, as with beer, is fermentation of grain, not distillation. In any event, as California Board of Equalization member Bill Leonard has pointed out, the legal standard under which flavored malt beverages count as liquor would apply to the vast majority of beer and wine sold in California.