Presidential Hopeful Gov. Bill Richardson Doesn't Grok Cock(fighting)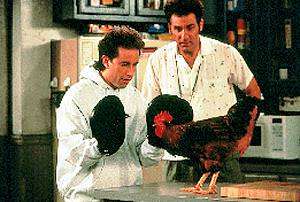 If you doubt for a second that the Land of the Free and the Home of the Brave–the Pilgrim's Pride and Land Where Ed Muskie Cried and all that–is fast becoming an open-air prison with strict no-smoking, no walking with iPods, and no transfat policies, here's a story that will make you think twice:
Cockfighting appears to be on its last legs in New Mexico, one of only two states where it is legal. And the reason might have something to do with the race for the White House.

Gov. Bill Richardson, a Democrat running for president, has come out strongly in favor of a ban on cockfighting. Legislation to outlaw the bloodsport has come up from time to time in New Mexico, but until recently, Richardson refused to take sides.

Some suspect he does not want to look as if he comes from a backward state.

"The bottom line is that if Bill Richardson is not running for president, this wouldn't be an issue," said Leo Lopez, 42, who has been attending matches since he was 12….

Tommy Booth, the 81-year-old owner of [cockfighting arena] Tommy's [Game Fowl Farm], said the governor has done a good job in general, but he feels betrayed: "I'm going to vote for him for president. But I'll hold my nose when I'm doing it.
The other state that allows roosters to tear each other to pieces? Louisiana.
More–including a missing subtitle to the story–right here.
Does former Reasoner Tim Cavanaugh still find Horatio Sanz-lookalike Richardson a lock for the Dem prez nom?