"We're heading toward socialism, and nothing and no one can prevent it"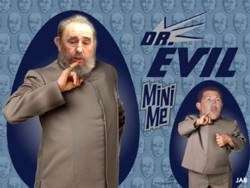 That's Venezuela's Hugo Chavez, crowing in a Washington Times story. Some snippets:
 The nationalization appeared likely to affect Electricidad de Caracas, owned by Arlington-based AES Corp., and C.A. Nacional Telefonos de Venezuela, known as CANTV, the country's largest publicly traded company.

"All of that which was privatized, let it be nationalized," Mr. Chavez said, referring to "all of those sectors in an area so important and strategic for all of us as is electricity."

"The nation should recover its ownership of strategic sectors," he said.
Chavez gets sworn in tomorrow for a third term as president, which will take him through 2013. More here.