Would Jack Kerouac or William Burroughs (or even Allen Ginsberg) Approve of This Message?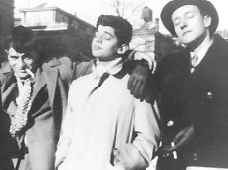 Jerry Cimino, proprietor of the excellent sites Kerouac.com and The Beat Museum, is urging fans of postwar America's original dropouts, the Beats, to vote Democratic this election:
I know this is going to piss a few people off, but I still feel compelled to do it. And God Bless America I still have the right to make that choice!

From now until the day before the election Kerouac.com will donate 25% of every dollar spent through our website to The Democratic National Committee to help improve the chances of the Democrats taking over at least one House of Congress.

Why are we doing this? Because Congress has failed us. Simply put The U.S. Congress, run by the Republican majority in both houses, no longer puts the interests of the American people first. They have simply become a rubber stamp for The Bush Administration and Congress has forgotten its duty to the citizenry.

It's time for a change. And maybe you don't believe the Democrats will be any better, but they can hardly be any worse. So even if you have to hold your nose you need to vote for the Democrat on the ticket this coming Tuesday.
That's from an email he sent around to folks on The Beat Museum's email list (which I am).
More power, I suppose, to political activists. But I wonder whether at least two of the three members of the Beat Holy Trinity would agree. Jack Kerouac, who gave his last major interview to National Review and was a big fan of that Republicanoid mag, was a hippie-hating conservative (albeit one who probably wouldn't fit in so well at The Corner). And William Burroughs isn't just one of Reason's 35 Heroes of Freedom (we honored him not only for his "relentlessly anti-authoritarian" writings but for proving "that you can abuse your body in every way imaginable and still outlive the entire universe"). As Jesse Walker noted here not too long ago, Burroughs had his, er, issues with FDR and assorted other Democrats, especially gun-control zealots. And even Allen Ginsberg, the most conventionally liberal in his politics of the Trinity, was at times a tax protester and tended toward rejection of conventional politics. (Btw, that's Kerouac, Ginsberg, and Burroughs pictured above.)
Which leaves us with who among the Beats you might use to oust Eisenhower's heirs? Lawrence Ferlinghetti, the capitalism-hating entrepreneur behind City Lights Books and one of the great forces behind the Beat scene? The A Coney Island of the Mind author wrote an execrable, though doubtless heartfelt, anti-war verse, "Speak Out." While that poem makes us all glad the Ferlinghetti will never complete a volume titled A Staten Island of the Groin, it's clear he can't move merchandise, at least not his own. Nor, I suspect, can Amiri Baraka, formerly the Beat Known as LeRoi Jones, whose grim tour of duty as New Jersey's Poet Laureate came to an end shortly after the publication of the Jews-Did-It 9/11 poem, Somebody Blew Up America.
So it's understandable that Cimino and the folks at Kerouac.com and The Beat Museum would reach for Kerouac & Co. But it's still at least as a big a stretch as zombie Kerouac hawking khakis (and at least we know he wore them).