No Tanks for the Mammaries, Thai Colonel Decrees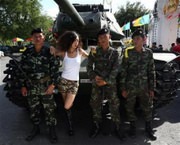 "It is not appropriate to entertain soldiers while they are on duty," Colonel Acra Tiprote told Reuters after a troupe of 10 women in tight camouflage vests and shorts posed with soldiers and tanks while making a music video.

"People should differentiate between entertainment and seriousness. A coup is not entertaining," Acra said, although the tanks sent in to lead Thailand's first coup in 15 years had turned Bangkok into a carnival-type attraction.
Where are the Thai answers to Trapper John McIntyre and Hawkeye Pierce when you need a couple of uproarious mavericks to take some of the starch out stuffed-shirt commanders who treat war as sport and sport as, well, war? More here.