"It's the American Dream, Stupid!"
Sen. Hillary Clinton and a few of her Democratic colleagues from the Legion of Doom World's Greatest Deliberative Body and Goode Tyme Eatin' House have unveiled an "American Dream Initiative" which promises a college grad with gold-plated health care in every two-car garage.
Reuters via China Daily calls the play:
Rewriting her husband's famous 1992 campaign slogan, "It's the economy, stupid," she declared: "It's the American dream, stupid."…

"This plan will make the basics of life in the middle class—health care, education and retirement—affordable for those who take responsibility," Clinton said.

"These ideas will make sure every American will get a fair wage, access to college and home ownership and a path out of poverty and into the middle class," she said.
Also in the offing: "American Dream Grants" to states based on the number of state college grads they produce, "American Dream Accounts" for retirement, American "baby bonds" that would cough up $500 per infant, and, I'm guessing, "American Dream Ice Cream," which tastes great but is not fattening, and "American Dream Food Stamps" so it's easier to shop at the sort of upscale grocery stores that the vanishing middle class prefers but can't afford. On top of it all: "New rules to rein in federal spending." More here.
Give Hillary, Sens. Evan Bayh (D-Ind.), and Gov. Tom Vilsack (D-Iowa) this much credit: This plan has better theatrics than Rep. Nancy Pelosi's (D-Calif.) bold promise to deliver broadband access at a slower rate than the market is currently doing. But I suspect the rest will ring pretty hollow for most people: Housing prices are steep in key metro areas (largely the fault of existing gov't policy, btw) but the percentage of owners is at or near historic highs. The same holds true for college attendance.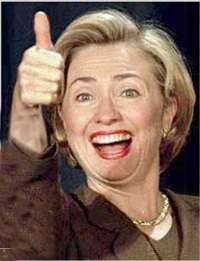 And somehow, however annoying and frustrating the American health care system is, it seems unlikely that Hillary Clinton, of all people, will motivate voters to pull the Dem lever. Indeed, even her line–"It's the American Dream, stupid!"–sounds off. Where Bill Clinton's campaign slogan was clearly designed to keep his team focused, her line seems more directed at recalcitrant voters. Then again, against the current crop of Republicans, this sort of thing might look like genius thinking, especially if the GOP's Napoleon in Elba AEI is campaigning mostly on a weight-loss plan.