Pentagon Fails Sixth Audit in a Row
Though federal law has required annual financial reports, the Department of Defense simply did not complete them until 2018. It has since failed each year.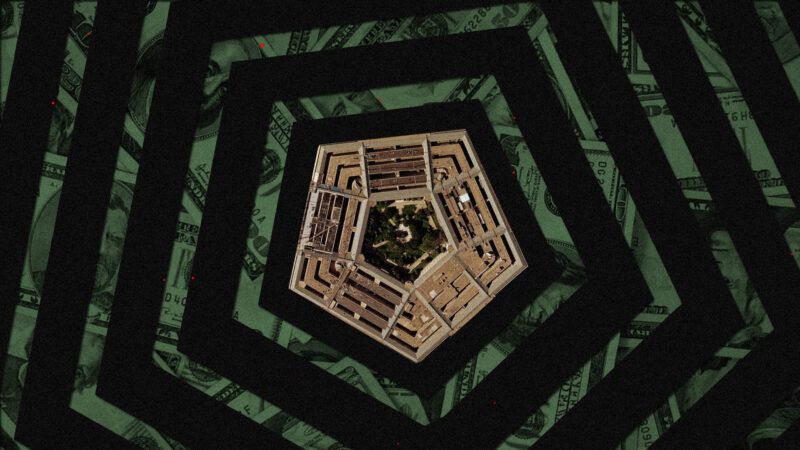 (Illustration: Lex Villena; U.S. Geological Survey)
The Department of Defense (DOD) has revealed the results of its most recent financial audit. For the sixth year in a row, it failed.
According to Michael McCord, the Pentagon's comptroller, the department holds $3.8 trillion in assets and $4 trillion in liabilities. In annual audits, the DOD Office of the Inspector General and independent accounting firms jointly scrutinize the department's finances, subdividing the DOD into 29 "components." All components are examined individually to verify that records are complete and accurate. This year, the process involved 700 site visits by 1,600 auditors.
Of those 29 components, only seven passed inspection with a "clean" audit. Three component inspections have not been completed; another, the Medicare-Eligible Retiree Health Care Fund, received a "qualified opinion," meaning "auditors concluded there were misstatements or potentially undetected misstatements that were material but not pervasive to the financial statements."
The remaining 18 components failed. These included the National Security Agency and the Defense Advanced Research Projects Agency.
This was nearly identical to last year's results, in which seven components passed the audit, the Medicare-Eligible Retiree Health Care Fund received a qualified opinion, and all remaining components failed.
Nonetheless, the department is trying to spin this result as a positive, stating in a press release that it constituted "incremental progress" toward "the goal of a clean audit." This was very similar to the language it used last year, when it said the results showed "progress toward a 'clean audit,' but not as much as officials hoped."
McCord told reporters last week that there was "progress sort of beneath the surface of a pass-fail." Deputy Pentagon press secretary Sabrina Singh said, "each time we go through this audit process, even if it is our sixth time, we keep going through the process. We keep getting better and better at it."
The optimism may be refreshing, but it's little comfort that an agency with trillions of dollars in assets and whose annual budget stretches past $800 billion can muster a passing grade on only a quarter of its programs' finances.
It was only in December 2017 that the DOD first announced that it would audit its own finances, a task which then-spokesperson Dana White said "demonstrates our commitment to fiscal responsibility and maximizing the value of every taxpayer dollar that is entrusted to us."
That audit was preceded by more than two decades of stonewalling. The Chief Financial Officers Act of 1990—I repeat: 1990—required federal agencies to prepare financial reports annually. For years, the DOD simply did not. Congress put a provision in the 2010 National Defense Authorization Act requiring the DOD to be prepared for an audit—in seven years. As Sen. Chuck Grassley (R–Iowa) put it, "The Pentagon was given an extra seven years to clean up the books and get ready."
When the DOD did finally complete its first audit, it failed, with only five out of 21 components passing inspection. Of those results, Deputy Defense Secretary Patrick Shanahan shrugged, "We never thought we were going to pass an audit, right? Everyone was betting against us, that we wouldn't even do the audit."
Slightly more circumspect, acting Inspector General Glenn Fine said "the most important thing" was not that the department failed, "but that the department takes the audit seriously and seeks to fix the identified deficiencies, which the department is doing."
A year later, the department failed again. While the Pentagon had fixed about 500 out of more than 2,400 issues identified the previous year, auditors identified 1,300 additional problems that needed to be addressed.
The DOD has failed each audit since. Reporting on one of those failures in 2021, CNBC blamed "old systems for tracking funds, a slow bureaucracy, and the sheer size of the U.S. Defense apparatus."
Maybe so. But only in government could an institution that wields so much power, influence, and money—in March, McCord called a $1 trillion annual Pentagon budget "inevitable"—do such a poor job of keeping track of its own assets for so long without major restructuring.