Rishi Sunak To Ban Cigarettes for Brits
The U.K.'s "conservative" prime minister wants to prohibit people born in 2009 and later from buying cigarettes—forever.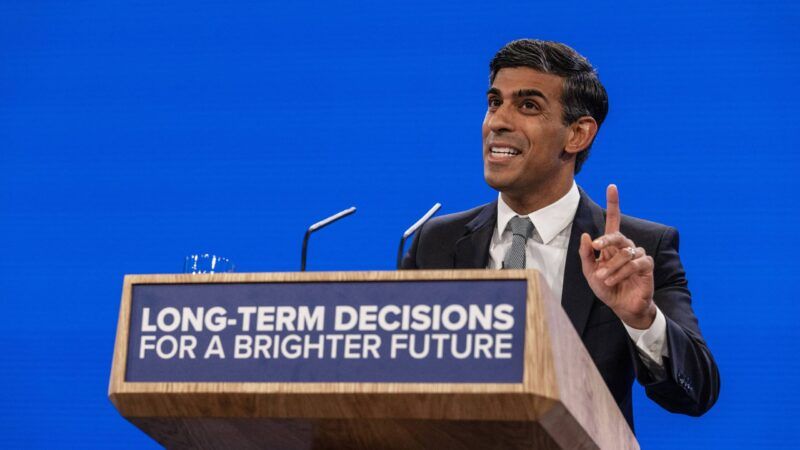 (News Licensing / MEGA / Newscom/NEWSUK/Newscom)
People in England born on or after January 1, 2009, will be banned from ever buying cigarettes under plans announced Wednesday by British Prime Minister Rishi Sunak.
Speaking at the Conservative Party conference, Sunak declared England's smoking age would be raised annually, so a 14-year-old today will never be allowed to buy cigarettes legally. 
The prime minister claimed smokers put "huge pressures" on the country's National Health Service despite the fact smokers in the U.K. pay far more in taxes than they cost in terms of health care.
Critics expressed alarm that a notionally "conservative" prime minister is cheerleading such a radical restriction of consumer choice. "Not only is this prohibitionist wheeze hideously illiberal and unconservative, it is full of holes," says Christopher Snowdon, head of lifestyle economics at the Institute of Economic Affairs, a U.K.-based free market think tank. "It will create a two tier society in which adults buy cigarettes informally from slightly older adults and will inflate the black market in general."
"This is now a conservative government in name only because the prime minister has just taken a wrecking ball to the principles of choice and personal responsibility," said Simon Clark, director of the smokers' rights group Forest.
But cigarettes aren't alone in Sunak's war on nicotine—disposable e-cigarettes, which have been blamed for an uptick in youth vaping, could also be banned. The number of British youth who have tried vaping rose from 7.7 percent in 2022 to 11.3 percent in 2023. However, the same survey data shows no significant change in the proportion of youth vaping regularly. Laws banning vape sales to children are already on the books, and tobacco harm reduction advocates argue enforcing the law would be a better bet than playing prohibition whack-a-mole. "A ban on disposable vapes is a dangerous strategy," said Mark Oates of the campaign group We Vape when the policy was floated in September. "Children will find products on the black market and adults will go back to smoking."
The U.K. already has some of the world's strictest tobacco policies, with prices averaging $15 per pack, graphic health warnings, plain packaging, tobacco display bans, and comprehensive smoke-free legislation. But it's also, up to this point, been a champion of safer nicotine alternatives to cigarettes, such as vaping, with 9.1 percent of Brits using e-cigarettes, most of whom are ex-smokers.
Britain's public health authorities are eager to inform smokers that vaping is substantially safer than smoking and plan to hand out a million free e-cigarettes to encourage smokers to quit. Thanks in part to the popularity of e-cigarettes, Britain has one of the lowest smoking rates in Europe at 13 percent, yet the government seems determined to pursue a prohibition policy with all attendant risks of black markets and criminal activity.
Bhutan became the first country to ban tobacco in 2004 and suffered a boom in smuggling. The prohibition was repealed in 2020 and was recognized as a failure. South Africa banned tobacco during COVID-19 with similar results, entrenching the illicit trade. However, New Zealand became the first country to adopt a generational smoking ban under the leadership of then-Prime Minister Jacinda Ardern in 2022, along with a mandatory reduction of nicotine in cigarettes.
Britain's embrace of incremental cigarette prohibition will likely encourage those across the Atlantic who want to see America follow a similar path. A California legislator proposed a generational smoking ban earlier this year, but it failed to gain traction. America's biggest anti-tobacco group, the Truth Initiative, recently called for a ban on all commercial nicotine, ending the legal sale of cigarettes, cigars, vapes, snus, nicotine pouches, hookah, and heated tobacco.
It's been 35 years since Britain banned smoking on airplanes, 16 years since all pubs and restaurants were forced to go smoke-free, and six years since all branding was removed from cigarette packs. At every stage, warnings that such coercive policies were a stepping stone to prohibition were ignored as hysterical overreactions by excitable libertarians. As the now-illegal cigarette ads used to say, "You've come a long way, baby."