There's Plenty of Evidence of Corruption Around Biden
When talking heads say "no evidence," they mean "no smoking-gun proof."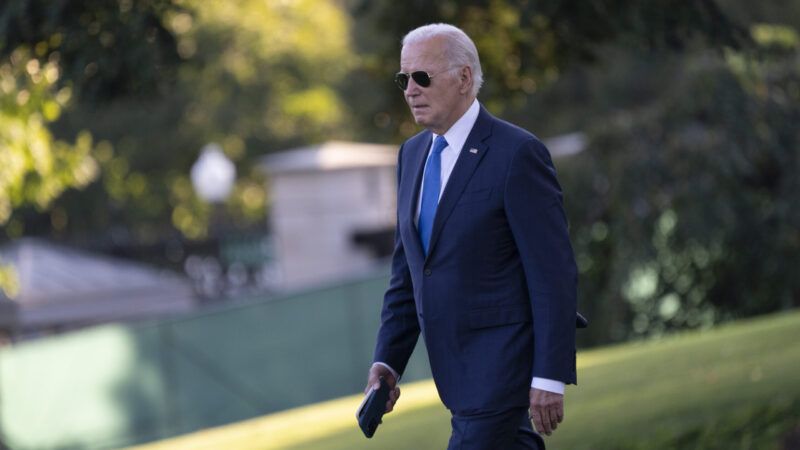 (Chris Kleponis - Pool via CNP/CNP / Polaris/Newscom)
If there's "no evidence" of wrongdoing, as many pundits insist, why is the Republican House majority fooling with an impeachment inquiry into President Joe Biden's business dealings with his son, Hunter? Well, when talking heads say, "no evidence," they mean "no smoking-gun proof." And they're right; the current case against the president probably wouldn't prevail in court. But there really is evidence of corruption and sleaze around Joe Biden, even if, so far, it doesn't rise to courtroom standards. While impeachment proceedings will likely go nowhere, Americans are entitled to pass their own judgments based on that evidence.
Absolutely No Evidence
"House Speaker Kevin McCarthy backed an inquiry despite no evidence of Biden's wrongdoing," Vox's Li Zhou insisted last week.
"U.S. Rep. Pete Stauber is backing an impeachment inquiry into President Joe Biden, despite no clear evidence of wrongdoing by the president," sniffed the Duluth News Tribune's Jimmy Lovrien.
"Mr. Biden repeatedly said he had 'never discussed' and had 'never spoken to' Hunter about his business dealings, and Republicans have produced no evidence that he was ever briefed on specific transactions or deals," according to Luke Broadwater of The New York Times.
You'll note how "no evidence" morphs into "no clear evidence" about "specific transactions"—those goal posts must be mounted on wheels. But a lot of the same outlets saying there's no evidence spend a lot of ink disputing the persuasiveness of evidence they tell us doesn't exist.
The Evidence Doesn't Show What You Think It Shows, Anyway
"As for the $20 million in payments," The Washington Post's Glenn Kessler noted of money found by the House Committee on Oversight and Accountability to have been paid by foreign sources to the Bidens through a network of companies controlled by members of the family, "only about $7 million can be directly attributed to Biden family members, mostly Hunter, while the rest went to 'associates.'…No evidence has emerged that any of these funds can be traced to Joe Biden himself."
Kessler helpfully broke down the cash flows as "$10 million in Chinese payments," "$6.5 million from Ukrainian energy firm Burisma," "$3.5 million from…a Russian billionaire," "$3 million in Romanian payments," and "$142,300 from a Kazakh businessman (to Hunter Biden to pay for a Porsche sports car)." He added that "no money has been traced to Joe Biden."
Biden famously denied any role in Hunter's sketchy business dealings. But that story has become harder to sustain.
"An IRS whistleblower gave Congress a summary of text messages from 2017 where Hunter Biden allegedly used his father as leverage to pressure a Chinese company into paying him," CNN observes during its own parsing of GOP allegations. "But the whistleblower said prosecutors weren't sure if Hunter Biden was telling the truth that his father was actually in the room."
"Hunter Biden's former business partner, Devon Archer, revealed in congressional testimony on July 31 that Hunter Biden put his father on speakerphone to exchange pleasantries with Hunter Biden's foreign business associates on about 20 occasions over a 10-year period," acknowledges The Annenberg Public Policy Center's FactCheck.org. "Archer also described two occasions when Joe Biden attended dinners where foreign business partners — or prospective business partners — were present.…But Archer also said the conversations were always limited to benign pleasantries, such as asking about the weather."
Maybe Joe Biden really enjoyed discussing rainfall with foreign bigwigs. Or perhaps he was savvy enough to signal involvement in a deal without saying anything legally actionable. After all, concerns that Hunter acts as a middleman for his father in unsavory dealings date back many years.
"A son of Democratic vice presidential candidate Joe Biden was paid an undisclosed amount of money as a consultant by MBNA, the largest employer in Delaware, during the years the senator supported legislation that was promoted by the credit card industry and opposed by consumer groups," CBS News reported in 2008. "In a separate matter in which Hunter Biden's lobbying activities were referenced, he and Biden's brother Jim have been sued for allegedly defrauding an ex-business partner."
Pay No Attention to the Man Behind the Pseudonyms
If we're having difficulty finding cash flowing directly to Joe from Hunter's efforts to leverage his father's political position, that may have something to do with the thousands of emails the elder Biden hid behind pseudonymous accounts while vice president, in defiance of transparency standards.
"The clandestine emails fit a pattern that GOP investigators are piecing together of a behind-the-scenes effort by Hunter to sell his father's power in Washington — in which Joe played along," opines The Wall Street Journal editorial board.
Allegations that the Biden administration interfered in the investigation of Hunter also add to the impression that something isn't right.
"I am here to tell you that the Delaware USAO [United States Attorney's Office] and Department of Justice (DOJ) handling of the Hunter Biden tax investigation was very different from any other case in my 14 years at the IRS," Supervisory Special Agent Gary Shapley told the House Committee on Oversight and Accountability in July. "At every stage decisions were made that benefited the subject of the investigation," Shapley added. With regard to information found on Hunter Biden's laptop, "Assistant U.S. Attorney Lesley Wolf told us prosecutors had decided to conceal some evidence from the investigators."
Proof? No. Enough Evidence to Gross Out the Public? You Bet.
Is all of this enough to impeach the president? Doubtful. Is it enough to maintain an inquiry? I'd certainly say so—though the Democratic majority in the Senate is unlikely to convict. Impeachment proceedings will end up being political theater, like those against then-President Donald Trump. But public opinion doesn't require the same standard of proof.
"A majority, 61%, say they think that Biden had at least some involvement in Hunter Biden's business dealings, with 42% saying they think he acted illegally, and 18% saying that his actions were unethical but not illegal," CNN reported September 7 of a recent poll. "A 55% majority of the public says the president has acted inappropriately regarding the investigation into Hunter Biden over potential crimes, while 44% say that he has acted appropriately."
A subsequent AP-NORC poll finds that a majority of Americans are "extremely or very concerned" (33 percent) or "somewhat concerned" (26 percent) whether "President Joe Biden committed wrongdoing related to his son Hunter Biden's business dealings." About 50 percent of respondents say they are "not very or not at all confident" that the Justice Department is handling its investigation of Hunter Biden fairly.
The American people have already seen plenty of evidence. They don't need courtroom-level proof of sleaze and corruption to render their own verdicts.