Portland, Maine, Will Vote on Whether To Roll Back the City's Socialist Housing Policy Revolution
Today, voters will consider a citizen petition that would let landlords raise rents to market rates on vacant units.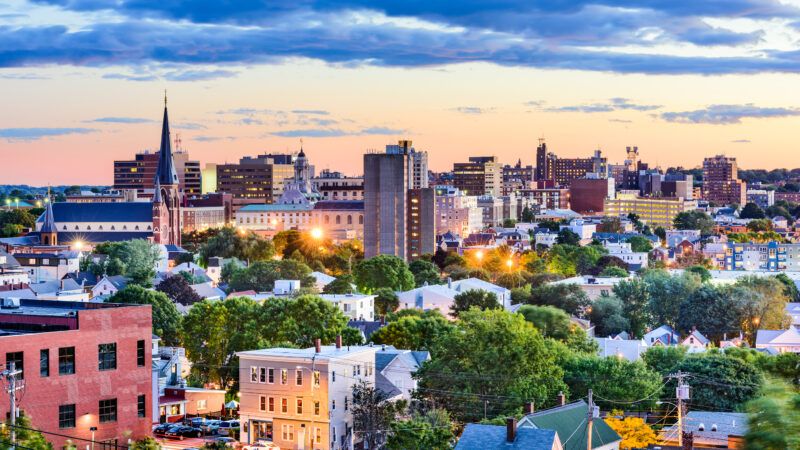 (Sean Pavone/Dreamstime.com)
Today, voters in Portland, Maine, will decide whether to modestly reform their city's socialist revolution in housing policy.
On the ballot is Question A, a citizen initiative that would amend the city's rent control law to allow property owners to raise rents to market rates on vacant units.
"Vacancy decontrol," as the policy is called, is a common feature of rent control policies. Proponents argue it's necessary to guarantee landlords a reasonable return on their properties and to cover the costs of turning over a unit to a new tenant.
"Anyone who really understands housing policy is not for such a strict version of rent control, even if they're in favor of some guardrails," says Brit Vitalius, president of the Rental Housing Alliance of Southern Maine, a landlord trade association that put the initiative on the ballot. "What we have in Portland is so strict."
On the other side of the issue is the Maine chapter of the Democratic Socialists of America (DSA). In 2020 and 2022, voters passed DSA-sponsored referendums that created and then strengthened a rent control policy that ranks as one of the strictest in the country.
Adopting vacancy decontrol, the Maine DSA says, will see landlords "gouging" tenants.
The tightened version of the policy allows for rent increases of only 70 percent of Boston-area inflation for the previous 12 months.
Buildings with two to four units are exempted from rent control, but only if one of the units is owner-occupied. There's no exemption for new construction, although owners of new buildings have the liberty to charge market rents to their first tenant.
Landlords can also raise rents by 5 percent on a new tenant, provided the previous one left voluntarily. They can also ask the city's rent board for larger rent increases in the service, but in no case can that increase be more than 10 percent a year.
That all adds up to an incredibly restrictive version of rent control. It's contrasted with new "anti-rent gouging" laws in California and Oregon that have vacancy decontrol, give rolling 15-year exemptions to new housing, and allow landlords to raise rents by inflation plus a fixed percentage.
When St. Paul, Minnesota, voters passed a similarly strict rent control law in 2021, developers promptly fled town. In response, city staff tried to weaken it administratively. The City Council later passed an ordinance that moderated many of its provisions.
That's not an option in Portland currently. City law prevents the City Council from making changes to policies passed by ballot initiative for five years after the ordinance goes into effect. It's pretty easy to get questions on the ballot as well. Citizen petitions require only 1,500 signatures or 3 percent of the city's registered voters. For state ballot initiatives, the threshold is 10 percent.
Easy ballot access has enabled the Maine DSA and allied local activists to pass a remarkably left-wing housing policy agenda.
As part of the DSA-backed 2020 Green New Deal initiative, voters also passed green building standards on new construction and required that new development include discounted apartments for low-income renters (a policy known as inclusionary zoning).
Owners of new developments with 10 or more units have to offer 25 percent of their units at below-market rates that are affordable to those making 80 percent of area median income.
As far as inclusionary zoning policies go, that's a very steep requirement. (The city's previous inclusionary zoning policy required only 10 percent of units to be affordable at 100 percent to those making area median income.)
It's also mandatory, meaning developers aren't given any automatic incentives like tax credits and density bonuses to make up for their losses on the "inclusionary" units.
Combined, the policies represent big victories for a particular, left-wing approach to housing policy centered on controlling prices and imposing uncompensated mandates on property owners.
Builders and landlords complain that the policies have had all the same unintended, negative consequences and impacts that rent controls and inclusionary zoning have had elsewhere; namely, a diminished incentive to build or maintain rental housing.
Housing approvals did spike following the passage of inclusionary zoning in 2021, but those were mostly projects that didn't have to meet the new inclusionary zoning standards. Christine Grimando, Portland's planning director, told Reason in an email earlier this year that only three of the 11 projects that were approved in 2021 had to comply with the new inclusionary zoning requirements.
These were typically subsidized projects as well.
"We're doing one deal right now that's meeting the 25 percent threshold, but it's a historic tax credit deal," says Jonathan Culley of Redfern Properties, one of the largest for-rent development companies in the Portland area. "Nobody will be doing for-rent multifamily at 25 percent without a meaningful subsidy."
Landlords also argue that Portland's rent control law has reduced the availability of rental housing in the city and punished smaller landlords who were most accommodating to their tenants.
"[Rent control] has kept rents down for existing tenants. In that sense, it has succeeded to some degree," says Roger Buck, a landlord with three buildings in Portland. "If anything, it's exacerbated the shortage of housing. It's very difficult to get an apartment in Portland."
In an FAQ on its website, the Maine DSA argues that a 70 percent inflation cap on rent increases allows landlords to "fully recoup the costs" of general maintenance and that they can ask the city's Rent Board for larger rent increases for more significant capital expenditures.
Buck says the Rent Board process is much more burdensome than a simple application. When he made capital improvements on a 100-year-old building that he rents out in Portland's downtown, he had to submit 50 pages of documentation to justify passing on those increased costs. The process took two meetings and many weeks to play out. His tenants were also able to argue against the rent increase before the rent board.
Prior to being a landlord, Buck was a commercial real estate appraiser, which gave him the knowledge necessary to explain and justify the costs of his capital improvements. A less sophisticated, smaller-time landlord would have a harder time.
He also got his increases approved under the more liberal 2020 rules. Portland's 2022 rent control ballot initiative eliminated landlords' explicit right to pass on the cost of capital expenditures, in favor of a vaguer standard about their right to earn "a fair rate of return."
"It's hard to justify improving properties when you can't raise rents to cover the costs," Buck says.
Once a ballot initiative passes, the Portland City Council can't make changes to it for five years. Amendments can only come in the form of another ballot initiative.
Portland's landlords complain that the ballot initiative process is not the ideal way of pursuing moderating fixes to a highly technical policy.
"We're just reminded how hard it is to communicate through sound bites. Even as simple as our change is, people have questions," says Vitalius. "As much as anything, it just really reinforces how bad it is to make policy through referendum."
As a counterexample of better policy making, Vitalius gives the example of South Portland. In March, the City Council passed a rent control ordinance capping rent increases at 10 percent for existing tenants. The Rental Housing Alliance didn't oppose the ordinance.
"The South Portland Council is very liberal, when they actually look at it, and took their time, and took their input from the community, they specifically said, 'We don't want to do what Portland is doing. That went too far and that is bad for housing," Vitalius says.