Five Women Sue Texas Over the State's Narrow Abortion Exception
The law allows abortions when there is a "medical emergency"—but what qualifies as an emergency?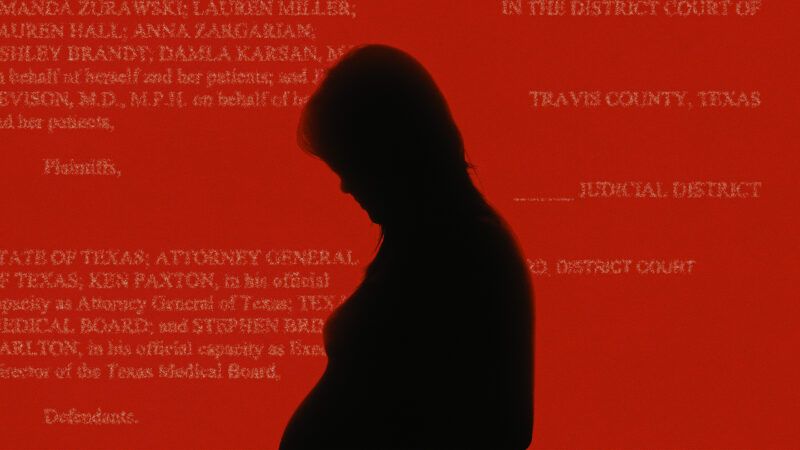 (Illustration: Lex Villena)
Five women are suing Texas over the state's strict abortion ban, hoping to clarify the law's narrow exception for abortions in the case of a "medical emergency." The women—all of whom were denied abortions despite life-threatening complications or significant fetal abnormalities—say the statute is vague, leaving hospitals and doctors with "widespread fear and confusion," and thus is likely to deny women lifesaving care out of fear of prosecution.
"Abortion bans are preventing pregnant people from receiving the standard of care from their medical professionals in times of crisis," the lawsuit states. "Pervasive fear and uncertainty throughout the medical community regarding the scope of the life and health exceptions have put patients' lives and physicians' liberty at grave risk."
The suit, filed last Monday, seeks a declaratory judgment that doctors may perform abortions when a pregnant woman has a "medical condition that poses a risk of death or a risk to their health," when a pregnancy complication "poses a risk of infection [or] bleeding, or otherwise makes continuing a pregnancy unsafe," when a physical condition "is exacerbated by pregnancy, cannot be effectively treated during pregnancy, or requires recurrent invasive intervention," or when "the fetus is unlikely to survive the pregnancy and sustain life after birth."
Three of the plaintiffs were told they were carrying fetuses with severe birth defects. (Two had no skulls, and another had an underdeveloped brain and an incomplete abdominal wall, among other conditions.) For these women, continuing their pregnancies carried a substantial risk of hemorrhage or risked harming a second, unaffected, fetus in a twin pregnancy. The other two faced severe complications from a miscarriage.
One of the women, whose water broke at 19 weeks, took a risky flight to Colorado to receive an abortion rather than wait until she developed an infection in Texas. Another plaintiff, Amanda Zurawski—whose story went viral in October—nearly died after going septic when doctors in Texas denied her an abortion as she was miscarrying.
Texas law currently bars abortions except in the case of a "medical emergency," which the statute defines as "a life-threatening physical condition aggravated by, caused by, or arising from a pregnancy that, as certified by a physician, places the woman in danger of death or a serious risk of substantial impairment of a major bodily function unless an abortion is performed." Several of these women certainly seemed to be experiencing such emergencies. Even in the cases where the fetuses, not the women, faced the most imminent danger, the risk of life-threatening complications, such as hemorrhage, was high.
Yet despite these risks, the plaintiffs describe their doctors as beset by fear of prosecution, and thus hesitant to address grave dangers to their patients. According to the suit, one woman's doctors were too scared even to talk with her about abortion. Instead "one of the doctors typed a generic abortion finder resource into her cell phone" and showed the patient the web page.
"With the threat of losing their medical licenses, fines of hundreds of thousands of dollars, and up to 99 years in prison lingering over their heads," the suit reads, "it is no wonder that doctors and hospitals are turning patients away—even patients in medical emergencies."
It is unclear whether the suit will succeed. While the complaint argues that the current vague language of Texas' abortion law violates the Texas Constitution's guarantee that no "citizen of this State shall be deprived of life, liberty, property, privileges, or immunities, or in any manner disfranchised, except by the due course of the law of the land," the state's conservative-leaning Supreme Court is unlikely to accept such an argument. But even if the suit isn't successful, the plaintiffs hope to publicize the risks that come with vague exceptions to abortion bans.