Kyrie Irving Can Finally Play, but New York City's Vaccine Mandate Double Standard Remains
If the rules don't apply to everyone, they ought not apply to anyone.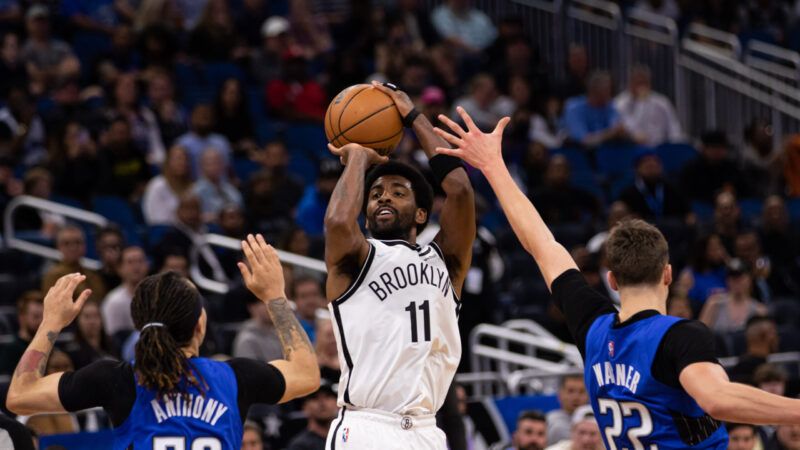 (Sports Press Photo/Andrea Vilchez/SPP/Sipa USA/Newscom)
Professional basketball players, like noted vaccine-holdout Kyrie Irving of the Brooklyn Nets, and Broadway stars will no longer be subject to New York City's private employee vaccine mandate.
But if you're not famous enough to get people to pay to watch you play or perform—or lucky enough to work alongside them—then, sorry, the mandate still applies.
That's the absurd and, frankly, unfair result of New York City Mayor Eric Adams' announcement on Thursday that carves a new loophole in the city's increasingly nonsensical private employer vaccine mandate. In a press conference at Citi Field, home of the New York Mets, Adams announced a new executive order that will exempt workers at the city's stadiums, arenas, concert venues, and theaters from the sweeping mandate that required both private and public employees in New York to get vaccinated or lose their jobs, The New York Post reports.
The mayor had been under pressure to lift or alter the vaccine mandate ever since his office lifted the city's indoor mask and vaccine mandates on March 7. For the past few weeks, unvaccinated fans have been welcomed into New York's arenas and performing arts venues, but city-based athletes like Irving have been unable to play. (He was allowed to watch his teammates play, though, which really drove home the absurdity of that arrangement).
Adams' announcement on Thursday is meant to clear up that obviously contradictory public health policy. But perhaps it is more accurate to say that his announcement is meant to put an end to the bad press surrounding this whole mess.
Now that Irving is allowed to play, there won't be a steady stream of criticism directed in Adams' direction. But that won't help the millions of New Yorkers who remain subject to the vaccine mandate. Under the new set of rules, for example, an unvaccinated bartender can serve drinks at Madison Square Garden or in a Greenwich Village music club—but she can't work at any of the city's other drinking establishments. What's the public health rationale for that distinction? There plainly isn't one.
The new rules make as much sense as the exemption that has always existed for visiting performers and athletes—an exemption that was widely criticized, even by NBA Commissioner Adam Silver.
If Adams now believes there is a vital public health reason to require that bartenders, barbers, city workers, and investment bankers be vaccinated, then why do basketball players and stadium staff not present the same public health risk? Perhaps there is some magical COVID-preventing quality to the air that circulates inside the city's arenas and theaters? That seems unlikely.
If the rules aren't going to apply to everyone equally, they ought not to apply to anyone. This is a basic tenet of good governance.
New York City's private employer mandate—like the similar one that the Supreme Court blocked at the federal level—probably never should have been imposed in the first place. It was and is an unjustified intrusion of government power into the private working arrangements made by employers and employees.
Creating new loopholes and granting special privileges does not change any of that. Irving might finally get to play in front of his hometown fans, but many New Yorkers are still subject to overreaching, nonsensical, ineffective vaccine rules.