Oklahoma House OKs Citizen-Enforced Abortion Ban
Plus: Masculinity tied to inflated IQ estimates, contempt for Warren's crypto bill, and more...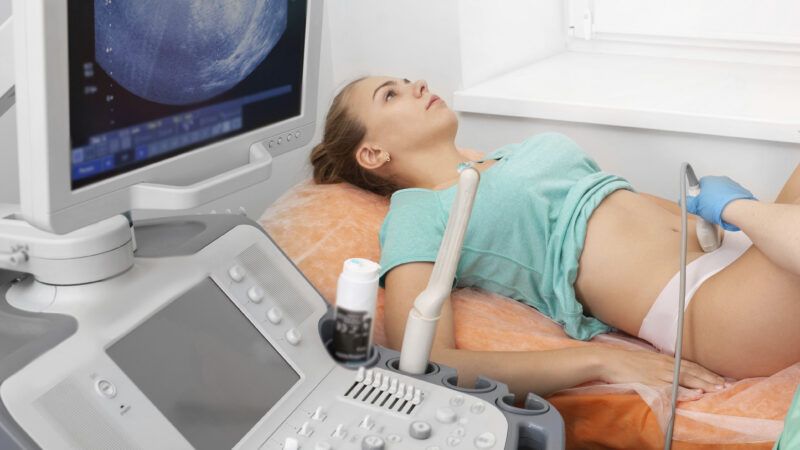 (PEAKSTOCK / SCIENCE PHOTO LIBRARY/Newscom)
Another state copies—and intensifies—Texas abortion law. Oklahoma lawmakers on Tuesday voted to totally ban abortion except in cases where the mother's life is at risk—and to put citizens in charge of enforcing the law.
The measure is a more extreme version of one passed by Texas last year to ban abortion at six weeks and let individuals sue anyone who aids someone getting an abortion after that point.
Historically, such early bans on abortions have quickly been declared unconstitutional. But the U.S. Supreme Court held that because the Texas law would be enforced by private citizens and the courts instead of state officials, the Court could not preemptively shut it down.
In the wake of that declaration, Republican-controlled legislatures across the country have been trying to pass similar abortion restrictions. Copycat measures have already been passed in Idaho and introduced in Missouri and Tennessee.
"Abortion rights activists have been warning of this nightmare for months: these bounty hunter laws will have a domino effect across the country, as more and more states ban abortion nearly entirely while Roe v. Wade is still the law of the land," said Elisabeth Smith, director of state policy and advocacy for the Center for Reproductive Rights, in a statement.
Like the Texas law, the Idaho and Missouri versions would ban abortion as soon as fetal cardiac activity can be detected—around four weeks post-conception (which is known as six weeks of pregnancy). The Oklahoma and Tennessee versions would ban most abortions from the very start of pregnancy.
The Oklahoma measure—HB 4327—would be enforced by private citizens, who could sue anyone who "performs or induces" or "aids or abets the performance" of an abortion and be awarded at least $10,000 for every illegal abortion performed.
It passed the state's House of Representatives 78–19 on Tuesday and now goes to the Senate. If passed, it would take effect as soon as the state's governor signs it.
"While abortion remains legal in Oklahoma for now, this vote comes one week after the Senate Health and Human Services Committee passed five other anti-abortion bills—including six-week and 30-day abortion bans—in less than an hour," notes Planned Parenthood.
BREAKING: The Oklahoma House has approved a total abortion ban that can be enforced by private citizens.

If approved by the Senate and signed into law, this ban would take effect immediately.

It's a dark moment for Oklahomans' ability to control their own bodies and futures.

— ACLU (@ACLU) March 23, 2022
---
FREE MINDS
Masculinity tied to inflated estimation of IQ. Research published in Frontiers in Psychology looks at gender differences in self-reported intelligence. "Males and participants of both genders who scored high in masculinity offer[ed] higher self-estimates," states the paper, from Australian researchers David Reilly, David L. Neumann, and Glenda Andrews. They also observed "observed a pattern of systematic underestimation in females."
"Psychology and intelligence researchers are unequivocal: men and women do not differ in actual IQ," writes Reilly at Neuroscience News. However, when asked to estimate IQ, male scores "were more often overestimates" and female scores "were more often underestimates." More:
After statistically controlling for the effects of actual measured IQ, we next examined the strongest predictors of self-estimated intelligence. The results showed biological sex remained the strongest factor: males rated their intelligence as higher than females. However, psychological gender was also a very strong predictor, with highly masculine subjects rating their intelligence higher (importantly, there was no association with femininity).

There was also a strong contribution of general self-esteem to participants' intellectual self-image. As noted above, males report higher self-esteem than females.
You can find the full paper here.
---
FREE MARKETS
Contempt for Warren's crypto bill. The Digital Asset Sanctions Compliance Enhancement Act, introduced by Sen. Elizabeth Warren (D–Mass.) last week, is ostensibly about Russia. It would allow the government "to block and prohibit all transactions" from digital asset trading platforms and transaction facilitators that are owned, controlled by, or helping "any person with respect to which sanctions have been imposed by the United States relating to the Russian Federation." And it would let the Treasury Department "require that no digital asset trading platform or digital asset transaction facilitator that does business in the United States transact with, or fulfill transactions of, digital asset addresses that are known to be, or could reasonably be known to be, affiliated with persons headquartered or domiciled in the Russian Federation if the Secretary determines that exercising such authority is important to the national interest of the United States."
But it also goes beyond Russia, stating that "the Financial Crimes Enforcement Network shall require United States persons engaged in a transaction with a value greater than $10,000 in digital assets through 1 or more accounts outside of the United States" to report it to the federal government.
"Everyone hates" the bill, notes Futurism:
Analysts at the DC-based Coin Center think tank wrote in a blog post that the bill's key conceit—suggesting Russian oligarchs could use crypto wallets to launder tons of money—is implausible, given the public nature of blockchains, which record every transaction on open digital ledgers. Additionally, its broad language would criminalize a host of activities that are not, to the minds of the post's writers, criminal. …

On the other side of Capitol Hill, some Democrats have also taken issue with Warren's attempts to regulate the burgeoning industry as well.

"The future of finance and the internet should not be left to a gerontocracy of regulators who appear to be on a personal crusade against crypto," Rep. Ritchie Torres, a freshman congressman representing New York City, told Politico in an interview about the bill. "Congress, which has a new generation of legislators, should have the final word."

"You should never define any technology by its worst uses," he added. "There's more to crypto than ransomware, just like there's more to money than money laundering."
---
QUICK HITS
• Today marks the third day of the the Senate Judiciary Committee's hearings on the nomination of Ketanji Brown Jackson to the Supreme Court. Here's what happened yesterday. (See also: Josh Hawley's Attack on Ketanji Brown Jackson Illustrates the Emotionalism She Criticized.)
• The city of Los Angeles got more than $600 million in COVID-19 relief funds from the federal government in 2021 and gave around $317 million of it to the Los Angeles Police Department for "payroll expenditures."
• The Legal Aid Society is challenging the New York City Police Department's use of a DNA database. In a new class action lawsuit, the group "accuses the city of operating an illegal and unregulated DNA database in violation of state law and constitutional protections against unreasonable searches," reports The New York Times. "The suit calls for DNA profiles that lawyers argue were gathered unlawfully to be expunged and for the database to be shut down entirely."
• J.D. Tuccille: Your favorite crisis doesn't justify a dictatorship.
• BuzzFeed shareholders want to shut down BuzzFeed News.