10 Million Ukrainians Have Been Displaced By the War. The U.S. Has Taken in 690 Ukrainian Refugees.
Plus: A Florida arms manufacturer is donating weapons to Ukraine's defense effort, China eases up on its "COVID Zero" policies, and Supreme Court nominee Ketanji Brown Jackson's confirmation hearings begin today...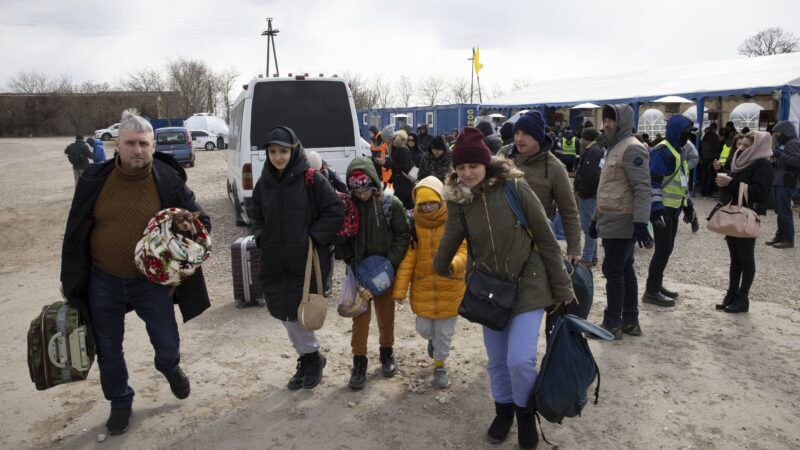 (Mirrorpix / MEGA / Newscom/ASLON2/Newscom)
The war in Ukraine has displaced a staggering number of people, with at least a quarter of the country's pre-war population forced to flee their homes. Many countries have welcomed the fleeing Ukrainians with open arms, while others have been less hospitable.
"Among the responsibilities of those who wage war, everywhere in the world, is the suffering inflicted on civilians who are forced to flee their homes," tweeted Filippo Grandi, high commissioner for the U.N. Refugee Agency, on Sunday. "The war in Ukraine is so devastating that 10 million have fled—either displaced inside the country or as refugees abroad."
The latest U.N. figures show that roughly 3.4 million Ukrainians have fled abroad. The majority of those people, some 2 million as of Saturday, have gone to neighboring Poland. Another 1.4 million Ukrainians have fled to Romania, Hungary, Slovakia, and Moldova. Around 185,000 refugees have fled in the opposite direction, to Russia.
International refugee officials have commended Poland for its efforts to accommodate the displaced. But the influx is straining the resources of its government and individual citizens. Al Jazeera reports that the country is converting everything from hotels to offices into shelters for refugees. Individual Poles have also taken Ukrainians into their homes.
President Joe Biden has said that he welcomes refugees from the conflict. In early March, his administration granted Temporary Protected Status to Ukrainians already in the country. That allows them to stay and work.
Still, the U.S. has so far accepted only about 690 Ukrainian refugees since October 2022, reports CNN, which points the finger at our absurdly overregulated immigration system. When asked how many refugees the U.S. might accept, Vice President Kamala Harris wouldn't commit to a specific number. Border officials have even prevented Ukrainian and Russian ship crews from disembarking at U.S. ports, out of fear that they might try to stay in the country.
The refugee crisis emanating from Ukraine will probably grow worse in the coming weeks. The Russian invasion appears to be growing more brutal as the war drags on. According to U.S. Defense Secretary Lloyd Austin, stiff Ukrainian resistance is prompting the Russians to resort to targeting population centers with rockets and artillery.
The nightmarish scenes in the southern port city of Mariupol foreshadow an even more bloody turn in the war as the fighting enters Ukraine's cities.
The worse things get in Ukraine, the more likely its civilian population will try to flee the country. U.N. officials have said that the number of international refugees could reach 4 million, reports The Wall Street Journal.
Ukrainian President Volodymyr Zelenskyy predicted as much on Sunday, calling the Russian invasion an effort "to exterminate us, to kill us." He nevertheless expressed an openness to a negotiated end to the war.
---
FREE MINDS
A Florida businessman is trying to do his part to support Ukraine by donating weapons to them. Adrian Kellgren, of the Cocao-based arms manufacturer firm KelTec, has gifted 400 guns to the Ukrainian war effort, reports the Associated Press.
"The American people want to do something," Kellgren told the A.P. "We enjoy our freedoms; we cherish those things. And when we see a group of people out there getting hammered like this, it's heartbreaking."
Nonprofits and local governments around the country have tried to ship arms and military gear to the country, but have generally been thwarted by federal export limits. But Kellgren's company was able to get an export license within a few days, thanks to help from a Ukrainian neighbor and a Ukrainian embassy official, according to the A.P.
Other would-be gun runners are now using KelTec's license to ship their own weapons to the country.
Without all the federal government's red tape on who can sell weapons to who, the private sector could be doing much more to lend Ukraine a helping handgun.
---
COVID-19
Communist China is struggling to maintain its "Zero COVID" policy. Up until this point, the government has zealously adopted harsh lockdowns in response to any new outbreak. But on Sunday, The New York Times reported that an outbreak of the ultra-contagious omicron variant is prompting the government to balance preventing infections with protecting economic growth. That has led to an easing of some pandemic restrictions:
Last week, for the first time, Mr. Xi urged officials to reduce the impact of the country's Covid response on people's livelihoods.

The adjustments are largely out of necessity. So far, the number of cases remains relatively low, and only two deaths have been reported in the latest wave. But many of the more than 32,000 cases reported across two dozen provinces in recent weeks have been of the highly transmissible BA.2 subvariant of Omicron.

The mushrooming of outbreaks around the country could quickly overwhelm the medical system if every person who tested positive were sent to a hospital, as was required until recently. It could wear down the armies of community workers and neighborhood volunteers tasked with organizing mass PCR tests for millions of people every day and checking on residents under quarantine. Lengthy, unpredictable lockdowns could wipe out the already razor-thin profits of many factories or lead to layoffs of service workers.
---
QUICK HITS