FDA's At-Home Testing Screw-Up Is Undermining Promising New COVID Treatments
The same agency that stymied COVID-19 testing is now dawdling over approving new antiviral pills.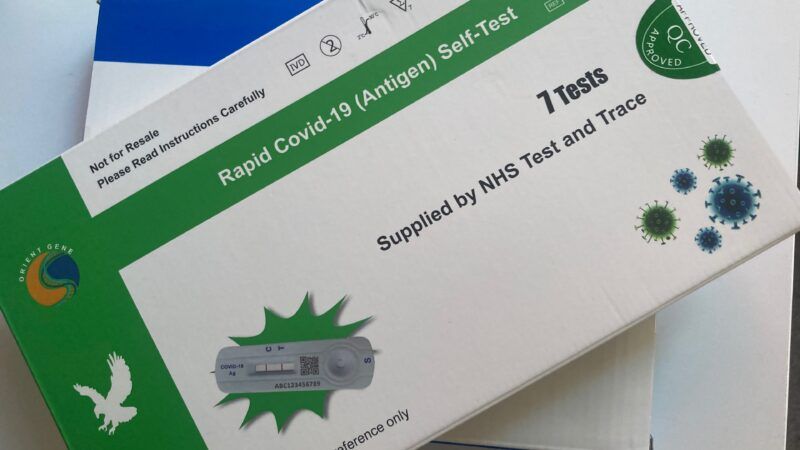 Should the worrisome omicron coronavirus variant turn out to be more contagious and more severe than currently circulating versions of the virus, the COVID-19 antiviral pills developed by Pfizer and Merck will likely be effective at reducing the risks of hospitalization and death from that variant. Why? Because both medicines disrupt parts of the virus' genome that are necessary for its replication and which, unlike the virus' spike protein that most vaccines target, rarely mutate.
The Pfizer pill (Paxlovid) is a combination of the ritonavir protease HIV inhibitor and a new protease inhibitor that targets a specific enzyme that the coronavirus needs to replicate and grow. Merck's pill (molnupiravir), developed with Ridgeback Biotherapeutics, is a ribonucleoside analog; when the virus incorporates it during replication, it basically causes the virus to mutate itself death.
Early indications in the clinical trials suggested that both medicines were so effective that it would have been unethical to continue enrolling control subjects to take placebos. In October, Merck reported initially that its pill reduced the risk of hospitalization or death from COVID-19 infections by 50 percent. However, the latest data from Merck suggests that its molnupiravir pill reduces the risks of COVID-19 hospitalization and death by about 30 percent.
In early November, Pfizer reported that its Paxlovid treatment reduced "the risk of hospitalization or death by 89% compared to placebo in non-hospitalized high-risk adults with COVID-19." Yesterday, Pfizer CEO Alberta Boula told CNBC that he has a "very high level of confidence that the treatment will not be affected" by the omicron variant.
On November 4, the United Kingdom's regulatory authorities approved molnupiravir as a treatment for COVID-19 infections. Meanwhile, the U.S. Food and Drug Administration (FDA) continues to dawdle over approving medications that were so effective that independent Data Monitoring Committees ruled that it would be unethical to continue giving placebos to study participants.
Speaking of dawdling, the FDA has long stymied the development and roll out of another vital component for the effective use of these antiviral medications: namely, at-home COVID-19 testing. Both pills must be taken by people within 3 to 5 days of exposure or symptom onset to be most effective at preventing hospitalization and death. That means that people need to be able to test themselves quickly, easily, and cheaply.
Up until mid-October, the FDA had approved only two over-the-counter at-home COVID-19 diagnostic tests, one of which has now had to be recalled. In the last month and a half, agency regulators have finally gotten around to authorizing nine more. The good news is that preliminary evidence suggests that current self-tests would be able to detect omicron variant infections.
A February 2021 poll by researchers at the Harvard T.H. Chan School of Public Health reported if COVID-19 self-tests cost $1 a piece, 79 percent of Americans would test themselves regularly at home. That figure dropped to only 33 percent if the cost was $25 per test. In the poll, the vast majority of respondents said that positive test results would spur them to take precautions to protect their family, friends, and work colleagues from becoming infected. According to the poll, 94 percent would stay home, 93 percent would isolate from family members, and 90 percent would wear a mask and make sure household members/close contacts got tested.
A quick internet check finds that most COVID-19 self-tests are still not widely available and those that are available cost more than $20. Of course, speedier FDA approval of COVID-19 self-tests would have spurred competition between brands that would have made them more widely available and lowered their prices to consumers.
Interestingly, New Hampshire public health officials began offering to send free (tax-paid) at-home COVID-19 tests to any of the state's residents on Monday. In less than 24-hours, 100,000 households had requested them, exhausting the "Live Free or Die" state government's supplies. (I brought home 28 COVID-19 self-tests that were being given away by public health functionaries on the streets of Glasgow, Scotland, while I was there covering the U.N. climate change conference.)
In October, the Biden Administration announced that it would spend $1 billion on purchasing and distributing at-home COVID-19 tests for free at public health clinics, food pantries, and community centers. The goal is to ramp up production to 200 million at-home tests in December. That amounts to around 0.6 tests per American per month. That's not enough testing to diagnose in a timely fashion a lot of people who could benefit from the new COVID-19 antiviral pills when the FDA finally gets around to approving them.
Let's hope that the worst fears about the omicron variant are not realized, but ramping up access to millions of cheap COVID-19 self-tests daily would enable people who do become infected to voluntarily take measures to prevent transmitting the virus onward to family, friends, and their fellow Americans.