USPS Implements New Business Plan of Higher Prices and Worse Service
The postal service is trying to get its fiscal house in order. It's also alienating large shippers of first-class mail.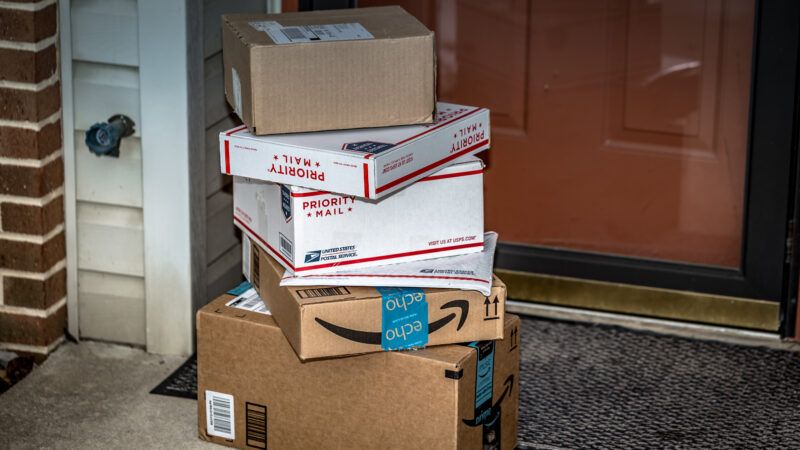 ( Georgesheldon/Dreamstime.com)
Beginning this month, the United States Postal Service (USPS) is implementing "new" service standards and prices. That is to say, costs are going up and delivery times are getting longer.
In the halcyon days of September 2021, the postal service had promised to get all first-class mail and periodicals sent within the lower 48 states to their destinations in three days.
That three-day guarantee will be replaced by new distance-based standards. Mail traveling upwards of 930 miles will now be considered on time if it gets to its intended recipient within four days. Anything sent to destinations over 1,907 miles away will now have a five-day delivery target.
The USPS' implementation of longer delivery times comes sandwiched between a pair of price increases as well.
In August, the postal service raised the cost of sending a first-class letter from $0.55 to $0.58. It also increased the cost of sending large "flats"—meaning larger envelopes, newsletters, and magazines—from $1 to $1.16. Starting October 3, the cost of sending packages will also increase from as little as $0.25 to as much as $5, depending on the distance it's being sent and the level of service requested.
This is all part of Postmaster General Louis DeJoy's 10-year Delivering for America business plan that is supposed to put the USPS on the path to "financial sustainability and service excellence."
The price increases are obviously intended to bring in more revenue. Longer delivery times, meanwhile, will allow the USPS to save money by sending mail on its own (slower) trucks, and not on airplanes owned by its competitors. In addition, the postal service is deploying more package-sorting machines in the hopes of capturing a larger slice of the growing e-commerce market.
All these changes are supposed to eventually put the USPS back in the black after over a decade of running persistent deficits, and maintain its usefulness in a world where high-margin "flat" mail (the postal service's traditional bread and butter) is becoming less and less relevant.
Nevertheless, the changes are upsetting some of the postal service's most reliable customers.
"I have not seen a business model like [DeJoy's], that promises worse service for higher prices, succeed," Brett Wesner, a publisher of small-circulation newspapers in Oklahoma, Texas, and New Mexico, and chairman of the National Newspaper Association (NNA), told Reason earlier this year.
The NNA's members include a lot of weekly periodicals for whom it doesn't make sense to keep on a dedicated delivery staff. That means reliance on a postal service whose service standards were slipping even before the pandemic when on-time rates went off a cliff.
The USPS' shift to package delivery would seem to make sense given how much retail shopping is moving online. It's also a service that's handled by a legion of private competitors.
"Do we really want the Postal Service to compete increasingly with the private sector? We do have private companies that deliver parcels—lots of them," says Kevin Kosar, a postal scholar at the American Enterprise Institute.
The changes the USPS is making, and the reaction to them, shows the bind that the postal service finds itself in, which I wrote about in the cover story for Reason's August/September issue:
An overhaul intended to prioritize handling more packages would risk alienating the large customers most invested in the USPS' flat mail services. Focusing on ever-declining paper mail would make the agency both less relevant to the public and more dependent on public subsidies.
Countries that don't quite count as anarcho-capitalist utopias have had success with either privatizing their postal services or opening up mail delivery to private competition. Reason has been on board with this idea since its first year in print.
Turning over all postal deliveries to the free market still leaves some tricky questions about how to get things like jury summons and election ballots everywhere they need to go. A separation of stamp and state also isn't politically practical, at least right now. No matter how much it has mistreated them, the public still loves its publicly-run postal service.
So, for the foreseeable future, it looks like we're stuck with more expensive stamps, and longer wait times for mail.