Georgia Tax Crimes Unit Illegally Spent Asset Forfeiture Funds on Trinkets and Swag
A state watchdog concluded an office in the Georgia Department of Tax Revenue illegally kept $5 million in forfeiture funds and spent it partially on swag like sunglasses and engraved guns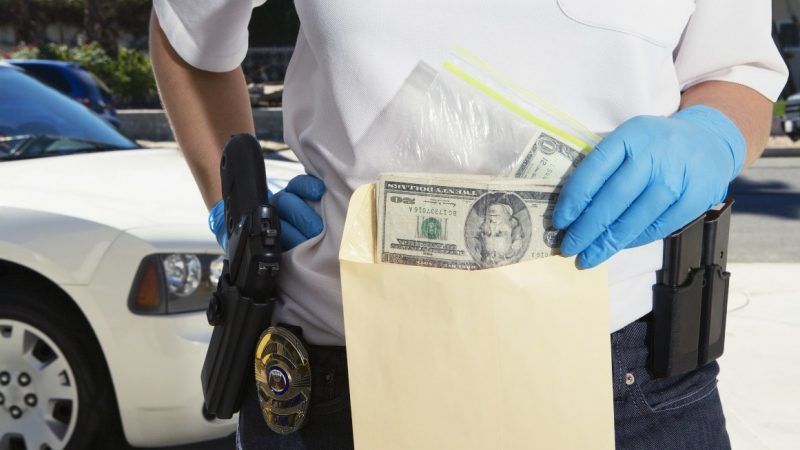 An office within the Georgia Department of Revenue illegally spent $3.1 million in money seized through civil asset forfeiture, according to a report from the Georgia Office of State Inspector General (OIG).
The state watchdog agency issued a report last week finding that the department's Office of Special Investigations (OSI) kept $5.3 million dollars in asset forfeiture revenues between 2015 and 2020 that should have gone into the state's general fund. It then illegally spent $3.1 million of that, including on items such as office furniture, vehicles, gym equipment, and Fitbits.
Investigators concluded that the illegal use of forfeiture funds "did not stem from a simple misunderstanding of the law." Rather, former Office of Special Investigations director Joshua Waites "repeatedly disregarded legal advice" and "intentionally misled" Department of Revenue leadership regarding his office's power to to collect and spend civil asset forfeiture funds, the OIG found.
"OIG's investigation revealed an office culture at the highest levels of leadership within OSI that disregarded any semblance of their professional responsibilities," State Inspector General Scott McAfee said in a statement.
The inspector general report confirmed a joint investigation published last March by the Atlanta Journal-Constitution and Channel 2 Action News. The news outlets found that the OSI had used asset forfeiture funds on frivolous expenses such as engraved firearms, commemorative badges, sunglasses, and gym equipment.
One day after the investigation dropped, the agency quietly returned $2.1 million to the state treasury. Waites resigned that same month as the news outlets were preparing to report that he had falsely stated in his job application that he had a degree from a college that did not exist.
A lawyer for Waites told the Journal-Constitution that the OIG's findings were "misleading, incomplete, and just plain wrong."
The OIG investigation was launched after the office received a tip from a lawyer representing Todd and Julie Chrisley, stars of the reality series "Chrisley Knows Best." The Chrisleys settled a $150,000 tax evasion case with the Georgia Department of Revenue in 2019.
According to the OIG report, Waites' office improperly requested access to the Chrisleys' bank accounts using a U.S. Treasury Department program reserved for suspected terrorists and money launderers.
During its investigation, the OIG recovered cell phone pictures of Waites posing on the Chrisleys' seized furniture, as well as text messages that read, "look at me in Todd's chair" and "Todd's bed."
"By posing on the Chrisley's furniture, Director Waites and other senior DOR leadership undermined DOR's ability to maintain a position of impartiality in the enforcement of state laws," the OIG wrote. "Further, acting in this manner harmed DOR's professional reputation and lends credence to Todd Chrisley's complaints that he was unfairly targeted for investigation due to his 'celebrity status.'"
Under civil asset forfeiture laws, police can seize property suspected of being connected to criminal activity, such as drug trafficking, even when the owner is not charged or convicted of a crime.
Law enforcement groups say civil asset forfeiture is an important tool to disrupt organized crime and drug trafficking by targeting their illicit proceeds. However, civil liberties advocates have contended for years that the practice lacks enough safeguards for property owners and creates perverse profit incentives for police.
There have been cases around the country of law enforcement agencies using forfeiture revenues as slush funds, and the OIG report is far from the first time Georgia officials have gotten in trouble for misusing them.
In 2018, the Justice Department demanded that the Gwinnett County Sheriff reimburse it for $70,000 in asset forfeiture funds that the sheriff's office spent on a Dodge Charger Hellcat.
A decade earlier, the Camden County sheriff got in hot water for using forfeiture funds to buy a $90,000 Dodge Viper for the department's DARE program.
The Journal-Constitution reported in 2013 that the Fulton County district attorney used state forfeiture funds to buy tickets to charity balls and sporting events, office parties, basketball shoe display cases, and a wrought iron security door for his home.
More than half of all U.S. states have passed some form of asset forfeiture reform in response to media investigations and reports by civil liberties groups. The Institute for Justice, a libertarian-leaning public interest law firm, gives Georgia a "D-" grade for its asset forfeiture laws, citing low standards of evidence and strong profit incentives for seizures.