Parents Are Filling the Political Vacuum for Charter School Support
Charter enrollment grew by 7 percent last school year, double the prior year.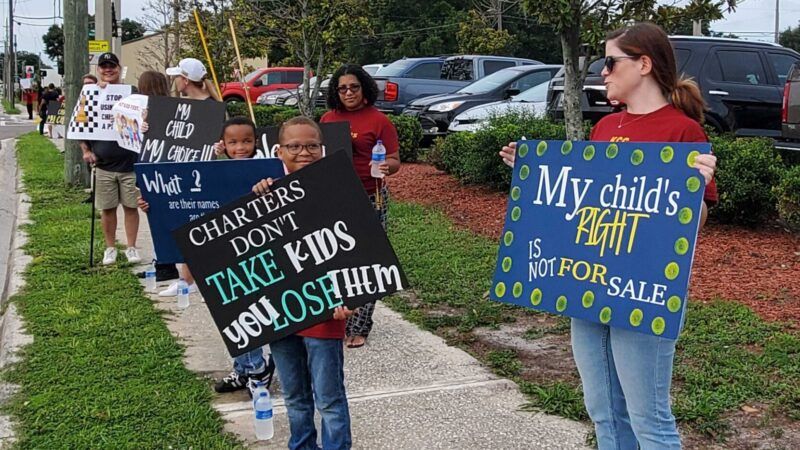 (Tampa Bay Times/ZUMA Press/Newscom)
When teachers unions forced public schools to close indefinitely in spring 2020, the void they created showed how ill-suited traditional public schools are to the 21st century. Though the pandemic stressed most public institutions, public charter schools proved remarkably resilient.
According to a new report from the National Alliance for Public Charter Schools (NAPCS), during the pandemic, public charter school enrollment increased in 39 of the 42 states with charter schools, adding 237,311 students from the 2019–20 school year to 2020–21. During the same period, traditional public schools lost 1.4 million students. While some of the traditional public schools' losses can be attributed to homeschooling, learning pods, and other alternatives, the Center for Reinventing Public Education learned that flight to virtual schools only accounted for roughly 40 percent of traditional districts' enrollment declines. 
That tracks with the NAPCS findings. Though enrollment in virtual public charters spiked in a few states—Oklahoma, Utah, and Pennsylvania—in other states like Texas, which had an enrollment surge of almost 30,000 students, those new charter school students are not attending virtual schools. Over the last decade, brick-and-mortar charter schools did very well, and would have likely done even better were enrollment not arbitrarily capped by law in many blue states like New York and Washington. Even in places where public charters are not legislatively capped, union contracts have scotched their growth.
Much has been written about charter schools' "scary future" politically in the wake of the frayed bipartisan support for public charter schools. Observers claim Republicans are now more focused on private school vouchers than more widespread charter schools. Democrats once had a strong pro-education reform contingent that favored charter schools but have in the last five years or so retreated into the open arms of teachers unions who oppose charter schools. There is no disputing that political expediency on both sides has created something of a vacuum in support for public charters, but out of this vacuum emerges a powerful force: parents.
Consider the words of Jasmine Morrison, the director of Parent Engagement at the New Jersey Public Charter Schools Association and leader of the parents' charter school advocacy Unapologetic Parent coalition. She spoke at the NAPCS' webinar launch of its report. According to Morrison, what policy makers who routinely oppose public charters are missing is that the pandemic gave parents a lens into their children's lives like they'd never had before. They peered over little shoulders during remote learning sessions to observe curricula, teaching methodology, and classroom management. They also had an unprecedented opportunity to observe their child's behavior as a student—not as a procrastinating or recalcitrant homework-hater, but as a real-time student. They observed how motivated or unengaged, how enthusiastic or bored their children were in class for significant periods of time. The parents of 237,311 did not like what they saw, so they voted with their feet and bumped charter school enrollment nationwide by 7 percent in a single school year, double from the previous year.
Morrison says that's a big deal because it's no easy feat to change a child's school. Birth certificates, school records, proof of residency, and vaccine records have to be gathered—and had to be submitted and verified at a time when the world was shuttered. But for parents who saw their kids blossom—or "do a happy dance," as she described it, because they achieved success during class—the effort was well worth it. Parents in her network have lauded their new schools for being nimbler and better equipped to meet the moment than district schools encumbered by top-down bureaucracy and union rules.
"People were dissatisfied with the first round of school closures," Morrison says, "and while parents don't know off the bat if their new charter school is union or nonunion, they know something is different whether it's the environment, the school culture, the amount of teacher contact, or resources like after-school activities and tutoring, or just finding the best fit for their child's development."
Naomi Shelton, CEO of the National Charter Collaborative, which provides support for minority charter school leaders, also participated in the report's launch. Shelton says that when parents like what's happening in their child's public charter school, policy makers need to be responsive and support the expansion of grade ranges or seats as needed.
Both agree that parental voices need to be amplified by the community that advocates for charter schools. Shelton points to the Freedom Coalition for Charter Schools, which is engaged in direct advocacy, or the Powerful Parents Network, a nationwide organization that advocates for school choice and which drew headlines for confronting Democratic presidential candidates on the issue at primary debates in 2019 and 2020. 
The NAPCS report paints a picture, as Shelton put it, of the "radical reckoning" that happened during the pandemic—a reckoning that should prompt policy makers to rethink fossilized opposition. 
The dramatic exodus of families from traditional public schools to charter schools—the highest enrollment growth since 2014—presents the perfect opportunity to engage in what Adam Grant, author of Think Again, calls the "critical art of rethinking." America's industrial-era education systems, heavily dependent on centralized school districts, can no longer be the default in our new reality. Autonomous schools like the nation's more than 7,500 tuition-free public charters, which serve mostly low-income minority students, must be embraced as part of the solution—and not just by parents dealing with a political education vacuum.