Progressive Democrats Propose Eviction Moratorium Far More Sweeping Than the One the Supreme Court Struck Down
The Keeping Renters Safe Act would give bureaucrats a blank check to ban evictions during future outbreaks.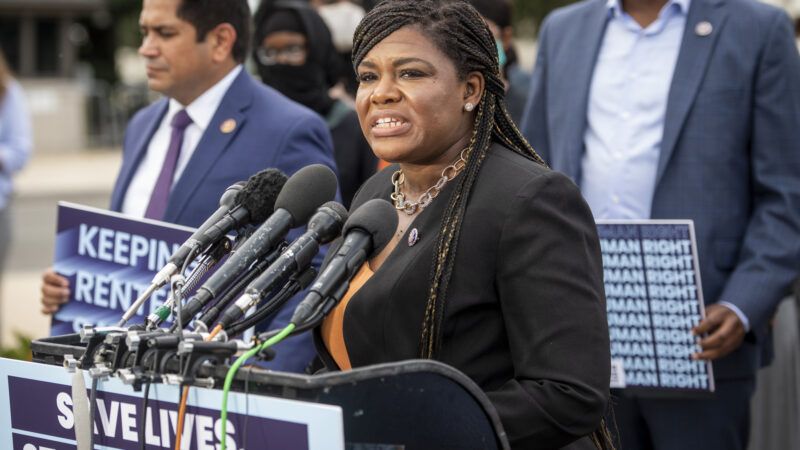 (Rod Lamkey - CNP/picture alliance / Consolidated News Photos/Newscom)
When the U.S. Supreme Court struck down the eviction moratorium imposed by the Centers for Disease Control and Prevention (CDC), it did so on the grounds that the agency's order had exceeded the authority given to it by Congress.
Progressive lawmakers are now trying to remedy that flaw with a bill far more sweeping than the CDC's defunct order. Their legislation also explicitly gives federal public health officials the power to issue eviction moratoriums during future disease outbreaks.
"Housing is a human right, not a bargaining chip to let fall between bureaucratic cracks," said Rep. Cori Bush (D–Mo.) when unveiling the Keeping Renters Safe Act of 2021.
The bill, which has been introduced in the Senate by Sen. Elizabeth Warren (D–Mass.), would halt "all residential eviction filings, hearings, judgments, and execution of judgments" until 60 days after the end of the federal public health emergency that the Trump administration declared in January 2020.
The CDC's moratorium only barred the physical removal of tenants for non-payment of rent. Landlords were still within their rights to file for evictions. They could also have tenants removed for reasons not related to non-payment, such as violating the terms of the lease, damaging the property, or creating a nuisance for other tenants.
The Keeping Renters Safe Act does allow the Department of Health and Human Services (HHS) to create exceptions to the eviction moratorium "protect the health and safety of others." But the bill doesn't require the HHS secretary to create those exceptions.
State-level moratoriums with narrow health and safety exceptions have put landlords in the position of housing legitimately dangerous and threatening tenants for months at a time.
That was the experience of Toni Akins, a small-time landlord who owns several units scattered across New England.
In May 2020, two of Akins' tenants stopped paying the $1,400 they owed in monthly rent on a home she owns in Plainfield, Connecticut. According to Akins, her tenants refused all efforts she made to work with them on a payment plan. The situation worsened over the next several months, with her tenants making threats against her. They sent "text messages that they were going to come to my home, that they were going to come get me. [They sent] pictures of them holding guns," she told Reason earlier this year.
Akins' initial attempt to evict her tenants for nonpayment of rent in September 2020 went nowhere because of an eviction moratorium imposed by Connecticut's Democratic governor, Ned Lamont. That rule limited evictions to cases where there was a "serious nuisance"—defined in state law as a tenant who inflicts bodily harm on another tenant or landlord, who willfully destroys the property, or who is using the property for selling drugs or prostitution.
After one of her tenants obtained a restraining order against the other in October, Akins filed for eviction again on the grounds that her tenant qualified as a serious nuisance. Still, the process took several months, with Atkins' tenant not agreeing to leave the property until March 2021. By that point, she says, he'd caused close to $24,000 in damages. "It took me about three months to clean up and repair and refurbish the property," she says.
If these lawmakers have their way, Connecticut's eviction regime would be applied across the country.
Their bill would also put federal public health officials in the position of being the nation's landlord during any future disease outbreak.
The Keeping Renters Safe Act would amend existing public health law to give the HHS secretary the explicit power to "implement, maintain, or extend" a residential eviction moratorium to stop the international or interstate spread of a communicable disease. That power isn't limited to stopping the spread of severe diseases like COVID-19. Some future HHS secretary would have the power to declare an eviction moratorium during a bad flu season, or even in response to the common cold.
When the Supreme Court struck down the last eviction moratorium in August, critics warned that the nation would soon see a wave of evictions.
So far, that wave hasn't materialized. Data from the states and cities tracked by Princeton University's EvictionLab generally show modest increases in evictions that are below historic averages almost everywhere. (Las Vegas is a notable exception.)
Writing in Slate, two EvictionLab researchers credit federally funded rent relief with keeping eviction rates low. That article also shows that eviction rates are higher in jurisdictions that are slower at getting rent relief out the door. But even in those places, eviction rates are hovering around historic averages.
Goldman Sachs' prediction that the country would see 750,000 evictions by year's end in the absence of a federal eviction moratorium is in line with what one would expect from a normal year.
That's still a lot of evictions. But a federal moratorium was never intended to be a long-term solution for keeping people housed. Even in the worst of the pandemic, the CDC's order was a blunt tool. Warren and Bush's bill would make it blunter, while also giving public health bureaucrats a blank check to use it at any time in the future.