Temporary Government Checks Produce Better Poverty Numbers…Temporarily
Plus: Mistrial motion granted for Backpage defendants, court halts vaccine mandate for New York workers, and more...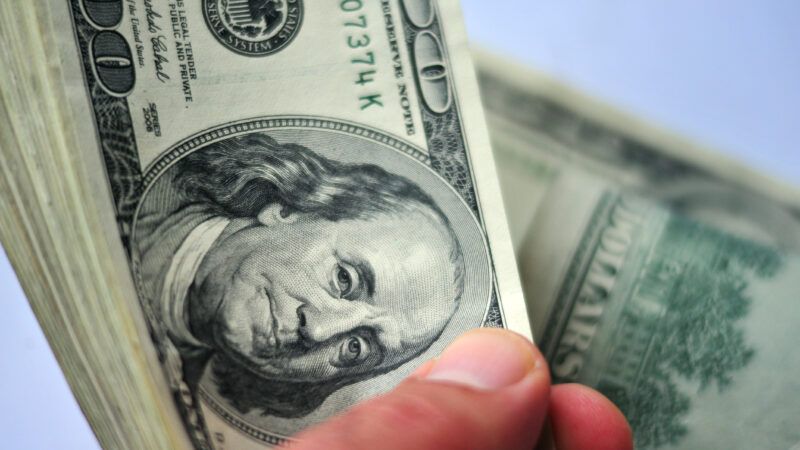 (Rafael Ben-Ari/Chameleons Eye/Newscom)
Did poverty rise or fall in 2020? That depends on how you define it. American household income fell significantly in 2020, according to data from the U.S. Census Bureau. That should come as little shock considering how much of the country was out of work because of the pandemic. But it is an interesting corollary to reports that poverty fell significantly in 2020, too.
"Nearly 8.5 million people were lifted out of poverty last year," according to The Washington Post. But that's a weird way to describe it because poverty—defined as a family of four living on $26,250 or less—only declined "after accounting for the government aid."
Yes, census data shows the 2020 poverty rate at 9.1 percent—down from 11.8 percent in 2019. But this is only because the federal government gave everyone money. People who have been "lifted out of poverty" by pandemic stimulus payments and other temporary subsidies will be right back in it unless the government decides to dole out thousands per person again.
Without the stimulus money, the 2020 poverty rate would have risen to 12.7 percent, the Census Bureau said. And "by a second measure, which leaves out much of the federal stimulus payments, poverty rose to 11.4 percent from 10.5 percent," the Post reports.
The Wall Street Journal explains further:
The bureau said the traditional poverty rate in 2020 was 11.4%, an increase of 1 percentage point from 2019 and the first increase after five consecutive years of declines. That translated to 37.2 million people in poverty, an increase of 3.3 million from 2019. … The official poverty measure doesn't reflect how much a household pays in taxes, and it also omits noncash government aid like tax credits, housing subsidies and free school lunches. A broader poverty measure that accounts for such expenses and income actually fell last year to 9.1%, down 2.6 percentage points from 2019.


The decrease, coinciding with an increase in the official poverty rate, highlighted the role of the government safety net, which was expanded during the pandemic. The two poverty yardsticks have tracked closely for a decade, but last year was the first time that the supplemental measure dropped below the official measure.
So while fewer people living in poverty is good news, it could be something of an artificial construct. And with more complete data, it's unclear that we have much of a reason to celebrate.
"The annual census findings also underscored the deep impact of so many job losses last year," notes the Post. "Median income declined sharply, 2.9 percent, to $67,521, and the number of people lacking health insurance throughout 2020 grew to 28 million, nearly 2 million more than in 2019. It was the fourth year in a row that the ranks of the uninsured swelled."
Coming out of the pandemic, Americans may be much worse off financially than they were before, despite allegedly having been "lifted out of poverty." People sustained by stimulus payments and unemployment benefits may find themselves unable to get a previous (or comparable) job back—although employer desperation right now at least provides some good news for those seeking employment. Meanwhile, the unusual circumstances of 2020 and 2021 may have only masked latent or worsening financial problems in other ways.
For instance, a temporary reprieve from rent payments under the eviction moratorium doesn't meant that money must never be paid back (or that rents won't rise to compensate). Returns to working outside the home may mean the need to pay childcare costs again. And inflation could see Americans paying more for the same goods.
Suddenly, people of all income levels could find themselves with the same or higher costs of living than they did in 2019.
---
FREE MINDS
Mistrial motion granted for Backpage defendants. On Tuesday morning, U.S. District Judge Susan Brnovich granted a motion for mistrial to the six former Backpage executives on trial for facilitating prostitution. Brnovich stated that while she "gave the government some leeway" to talk about prostitution and sex trafficking at large, "the government has abused that leeway" by focusing almost exclusively on child sex trafficking—a crime with which the defendants aren't charged. "Although I don't see any of these as intentional misconduct, the cumulative effect of all of that is something that I can't overlook and won't overlook," Brnovich said.
The government's case was hilariously nonsensical and relied heavily on some McMartin preschool trial level antics. https://t.co/WPMnXZzkot

— Jane Coaston (@janecoaston) September 14, 2021
This doesn't meant the defendants' saga is over. The charges have not been dropped, and Brnovich said yesterday that the parties would discuss in a few weeks when to reconvene. Nonetheless, it's a heartening (and somewhat surprising) rebuke of government malfeasance and overreach.
#FirstAmendment champions Michael Lacey (left) and Jim Larkin outside the federal courthouse today after Judge Brnovich declared a mistrial. If you regular journos use it, better credit me, or I'll hunt ya down like a dirty dog. 🙂 1/ https://t.co/FJOwNOLGMs pic.twitter.com/XHOTQihDvu

— Stephen Lemons (@stephenlemons) September 14, 2021
---
FREE MARKETS
Court halts vaccine mandate for New York workers. In two separate rulings yesterday, courts temporarily rejected New York state's attempts to require various kinds of workers to get the COVID-19 vaccine.
First, federal Judge David Hurd of the U.S. District Court of the Northern District of New York temporarily blocked an August 26 order requiring all hospital and nursing home workers in the state to be vaccinated. The state mandate does not contain a religious exemption, and was challenged by 17 people who say getting the vaccine violates their religious beliefs.
The state's department of health is temporarily barred "from enforcing, threatening to enforce, attempting to enforce, or otherwise requiring compliance with the vaccine mandate," Hurd wrote in his Tuesday ruling. Furthermore, it cannot take "any action, disciplinary or otherwise, against the licensure, certification, residency, admitting privileges or other professional status or qualification of any plaintiffs on account of their seeking or having obtained a religious exemption from mandatory COVID-19 vaccination."
Later on Tuesday, state court judge Laurence L. Love temporarily blocked New York City's requirement that teachers and other education staff be vaccinated against the coronavirus. The mandate—set to go into effect on September 27—was challenged by teachers unions.
But "a City Hall spokesperson downplayed the significance of the decision, saying that based on the ruling there 'is no delay' in the mandate's implementation," reports the  New York Post:
"New York City's education worker vaccine mandate, which has been embraced by the White House, goes into effect on September 27. The court's action today expires on September 22," the spokesperson said.

Last week, a city arbitrator ruled that DOE workers may apply for medical or religious exemptions.
See also: Can Biden's Vaccination Rule for Private Employers Survive Judicial Scrutiny?
---
QUICK HITS
•  About one in 500 Americans has now died from COVID-19, reports CNN, relying on coronavirus death data from Johns Hopkins University and population data from the U.S. Census Bureau.
• The effort to recall California Gov. Gavin Newsom has failed, meaning Newsom will remain in office.
• New research suggests that "much of what we thought we knew about metabolism was wrong," says The New York Times.
• The U.S. Department of Justice is putting limits on federal law enforcement's use of no-knock raids and chokeholds. They are now "prohibited from using chokeholds and 'carotid restraints' unless deadly force is authorized, which is considered when an officer has a 'reasonable belief' they or another person face imminent danger of death or serious injury," notes CBS News. "The department is also placing new limits on the use of 'no-knock' entries with the execution of warrants. Under the policy, such entries can only be used when an agent believes there is a threat to physical safety. In those circumstances, the agent must receive approval from a federal prosecutor and his or her law enforcement component."