Biden Will Announce Vaccine Mandate for Companies With 100+ Employees
The president will direct OSHA to require either vaccination or frequent testing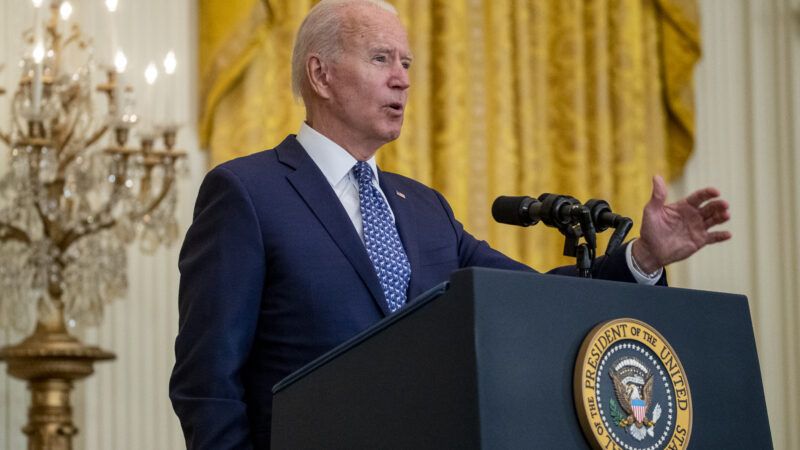 (Shawn Thew / Pool via CNP / SplashNews)
President Joe Biden is set to announce a sweeping new vaccine mandate for all companies in the U.S. that employ more than 100 workers.
Multiple news outlets are reporting that Biden will make the announcement during his speech on the state of the pandemic tonight at 5 p.m. According to Axios, the Department of Labor's Occupational Safety and Health Administration (OSHA) will serve as the enforcement mechanism for the mandate. Biden will direct the agency to craft a rule that requires large employers to mandate that workers either get vaccinated or submit to weekly testing.
The government will also require federal workers, staffers at most hospitals, and public educators to get vaccinated. A White House website has more details about the plan here:
The Department of Labor's Occupational Safety and Health Administration (OSHA) is developing a rule that will require all employers with 100 or more employees to ensure their workforce is fully vaccinated or require any workers who remain unvaccinated to produce a negative test result on at least a weekly basis before coming to work. OSHA will issue an Emergency Temporary Standard (ETS) to implement this requirement. This requirement will impact over 80 million workers in private sector businesses with 100+ employees.
It's one thing for the federal government to require its own employees to be vaccinated. But mandating vaccination for 80 million people who work in the private sector is a giant abuse of government authority. The feds should not have this power.
The strategy for enacting the mandate is authoritarian and anti-democratic. Congress has not passed a law explicitly giving the executive branch the power to implement a private vaccine mandate. The executive branch is simply deciding that it already possesses this power. If OSHA can require vaccination under its existing authority, there is little limit to what the agency can do.
There's no authority for this.
This is legislative action that bypasses the legislative branch.
If you care about representative government—if you're consistent regardless of who's president—then it doesn't matter that you like the policy; this mandate is an abuse of power. https://t.co/owy7XNEbdN

— Justin Amash (@justinamash) September 9, 2021
If Biden announces such a policy later this afternoon, he will have claimed startling new powers for himself—and, one hopes, will have set himself up for a stern rebuke from state officials and, eventually, the Supreme Court.