Amherst College Orders Vaccinated Students To Be Double-Masked Indoors
The college's absurd COVID-19 countermeasures are the strictest in the nation.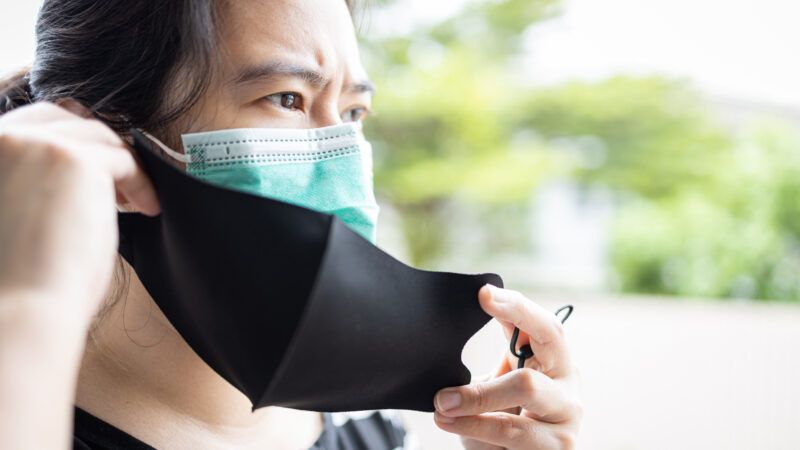 ( Satjawat Boontanataweepol | Dreamstime.com)
Amherst College in Massachusetts is welcoming students back to campus by implementing some of the most restrictive COVID-19 mitigation efforts anywhere in the country. Administrators will now require students to wear two masks while indoors, get tested every other week, eschew large social interactions, and generally refrain from leaving school grounds.
The new policies were announced last week, catching many students by surprise. They are much more restrictive than what the Centers for Disease Control and Prevention (CDC) recommend. They are slated to be enforced for at least the first two and half weeks of campus, or until such time as the administration is "confident the virus is not harder to control than we had predicted and is not beginning to take an even more virulent form."
Amherst was already requiring all students and staff to be vaccinated, and less than 1 percent of the campus had sought any sort of waiver from this requirement. This means, of course, that Amherst is already extremely protected from COVID-19: It is unlikely that anyone would experience hospitalization or death, even if there are occasional outbreaks.
But the college is going much further. Students will be required to wear not one but two masks while indoors. (If the mask is a KN95, then just one mask is allowed.) This policy actually contradicts CDC guidance, which recommends against people wearing multiple disposable masks at the same time.
Unmasking is only permitted while students are within their own dormitory rooms. There is no exception for eating in the cafeterias, since the cafeterias will all be closed: Amherst is canceling dining services for the time being. Students should definitely not think about going out to eat: Visiting bars and restaurants is strictly prohibited.
Indeed, students are essentially forbidden from leaving campus, except on legitimate business. Needless to say, Amherst does not want students socializing in large groups, attending parties, tailgating, or doing much of anything except sitting quietly in their rooms by themselves.
Some students are furious, and have started a petition demanding answers.
"The guidelines are not based on any given data, have been developed without student input, are significantly stricter than our peer institutions, and are in conflict with CDC guidelines," reads the petition, which has already been signed by several hundred students.
Amherst, as a private institution, has the right to set these policies; its students, in turn, have the right to take their business elsewhere. Yearly tuition at Amherst costs $58,000. That's a lot of money to pay for the privilege of sitting quietly in one's room until administrators recalibrate their risk tolerance.