An LGBT Discrimination Compromise Bill Is Proposed in an Uncompromising Culture
The "Fairness for All Act" would add federal protections against discrimination for gay and trans people. But its exemptions go too far or not far enough, depending on who you ask.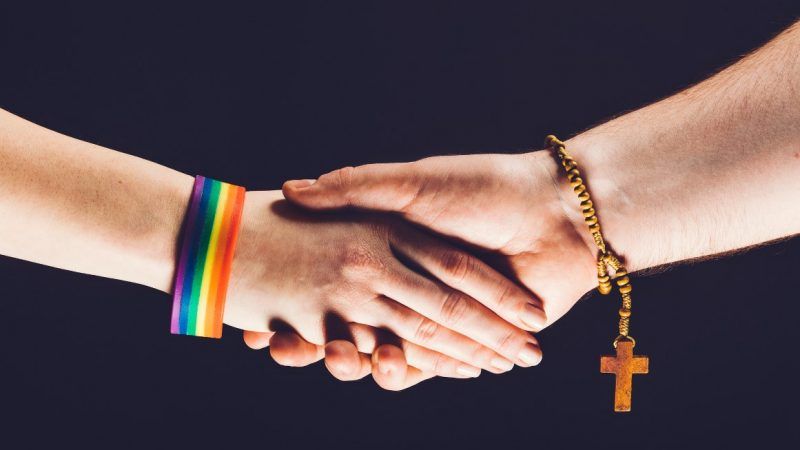 (Michal Bednarek / Dreamstime.com)
Several Republican lawmakers have introduced a compromise bill that would provide gay and transgender people federal discrimination protections while still preserving some ability for religious organizations and nonprofits to seek exemptions.
Of course, it doesn't appear that either side of the LGBT/religious conservative divide is willing to accept such a compromise. But the effort itself is worth noting as a sign of the significant cultural shift on LGBT issues.
Rep. Chris Stewart (R–Utah) has introduced the "Fairness for All Act" which attempts to thread the needle between protection and religious freedom. Stewart's bill would add "sexual orientation" and "gender identity" to federal discrimination laws. This would make it against the law nationwide to fire an employee or refuse to rent an apartment to somebody because they are gay or transgender.
While this sounds almost exactly like the Equality Act proposed by Democrats and LGBT leaders and passed by the House this May, Stewart's bill provides more specific exemptions for religious institutions and religious nonprofits, as well as small businesses. A large chain bakery or grocery store would be expected to make those gay wedding cakes (and they all do already because they like making money), while small businesses like Masterpiece Cakeshop in Colorado or Arlene's Flowers in Washington state would still be able to decline to provide services for same-sex weddings because of their religious objections to recognizing gay marriage.
The Fairness for All Act prepares the possibility of an expansion of the federal definition of a "public accommodation" by defining some exceptions. Currently, federal civil rights act laws define "public accommodation" more narrowly than most state laws—places like gas stations, movie theaters, restaurants, and hotels are covered, while many other professional services are not. Stewart's act would make it clear that facilities operated by a church or religious organization are exempted from any expansions in the definition of what counts as a public accommodation.
The bill tries to thread a difficult needle in how trans people should be treated for the use of facilities like restrooms and changing rooms. Public schools will be expected to accommodate trans students using the facility that matches their chosen gender, but schools will also need to find a way to "reasonably accommodate" anybody seeking greater privacy. The most relevant concern here is that of a cisgender woman who is uncomfortable sharing bathroom or changing space with a trans woman who still has male sexual organs. But not all women would care. So those who do care would be accommodated with something like a private stall, rather than requiring the trans woman to do so.
All in all, the purpose of the Fairness for All Act is to add sexual orientation and gender identity to federal discrimination laws in such a way that won't result in the Department of Justice targeting churches and religious institutions for punishment. It's a much milder change than the Equality Act, which would significantly expand public accommodation classifications and more tightly prohibit any religious-based exemptions.
Stewart's efforts have gotten him support from the Seventh-day Adventist Church and the Church of Jesus Christ of Latter-day Saints and Utah's Governor Gary Herbert, a Republican. The proposal is based on a compromise bill passed in Utah in 2015 that similarly added sexual orientation and gender identity to discrimination protections but also exempted religious organizations.
Clearly, we're not in a political environment where compromise is on the table, and coverage of the act shows it. Over at Vox, Katelyn Burns does a fair job of explaining what the bill does, but a significant amount of her piece is full of quotes from religious conservatives, LGBT activists, and for some reason, an atheist organization, all blasting the bill.
Googling "Fairness for All Act" leads—in its very first match—with a paid link from the religious conservative Alliance Defending Freedom written in 2017 (after the Utah compromise passed and Republican lawmakers began considering a federal version) warning that these types of "proposals surrender essential, constitutionally guaranteed individual and institutional freedoms and empower the government to discriminate against its citizens in exchange for narrow carve-outs for religious freedom and perhaps other protections of uncertain scope."
And then the next two links are to the American Civil Liberties Union (ACLU) and the Human Rights Campaign (HRC), both blasting the Fairness for All Act from the other direction. The ACLU says, "The new legislation signals that LGBTQ people are less worthy of protection. It does this by providing religious organizations and service providers with the ability to discriminate based on sexual orientation and gender identity where they are explicitly prohibited under current federal law from discriminating based on other protected characteristics."
The whole point of a compromise bill is that neither side gets everything that they want, but we're not in a cultural spot where the people with the loudest voices are interested in compromise. Each of the Democratic candidates for president have thrown their support behind the Equality Act, and in their various appeals for the LGBT vote, have made it clear they'd rather punish religious objectors than try to figure out a way to work with them.
The Fairness for All Act stands as conscientious objector to the culture wars. But right now, few people are looking for a truce.
Read a draft version of the bill here.