Federal Judge Says California Can't Force Trump To Release His Tax Returns in Exchange for Ballot Access
Written ruling says the state is violating the rights of voters as well as the presidential candidates.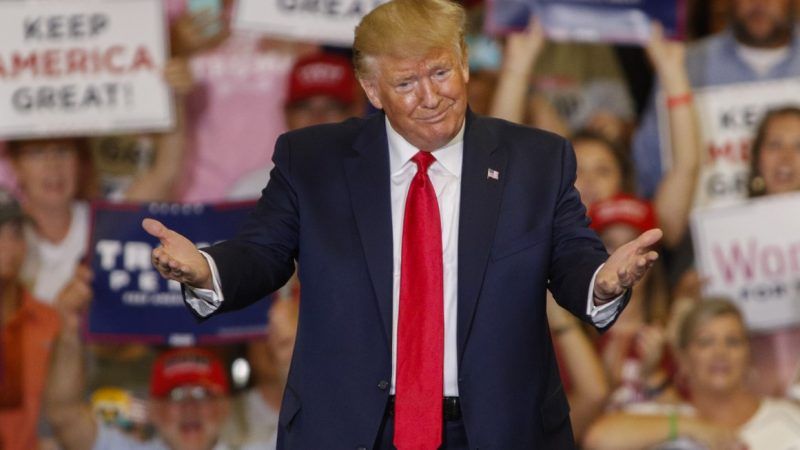 (NELL REDMOND/UPI/Newscom)
California cannot keep President Donald Trump, or any other presidential candidate, off the 2020 ballot for refusing to release his tax returns, a federal judge ruled Tuesday.
The ruling concerns Senate Bill 27 (SB27), the Presidential Tax and Transparency Act, which California's legislature passed in July and Democratic Gov. Gavin Newsom signed into law. SB27 requires all candidates for president, in order to appear on the state's primary ballots, make the last five years of their income tax returns publicly available.
Trump's attorneys, representatives for the Republican National Committee, the state's Republican Party, and a small group of individual voters all sued, arguing that the act violates the First and 14th Amendments of the Constitution and is pre-empted by federal law regulating financial disclosures by presidential candidates.
On Tuesday, Morrison C. England Jr., U.S. District Judge of the Eastern District of California, agreed with Trump and the other plaintiffs and enjoined California from enforcing the part of the law that requires the disclosure of candidate tax records. England ordered a temporary injunction when he first heard the challenge back in September. Today's written ruling formally orders California to cease making these demands.
England agreed with every single argument the plaintiffs presented against California. He agreed that the plaintiffs were likely to win on the merits, as the U.S. Supreme Court has determined that the Constitution forbids states from making new eligibility requirements by "dressing eligibility to stand for [public office] in ballot access clothing." He also agreed that SB27 was preempted by the federal Ethics in Government Act, which outlines what candidates for president must publicly disclose.
He further explains that the Act thwarts the will of California voters, violating their First Amendment rights:
"Here, the Act creates what amounts to a functional bar against the ability to cast an effective vote for a candidate who elects not to disclose his or her tax returns. It further interferes with the ability of both individuals and political parties to select the individual presidential candidate of their choice to act as the 'standard bearer who best represents [their] ideologies and preferences. … These are severe restrictions, since limitations on ballot access can violate multiple constitutionally-protected interests, including the right to associate for political purposes, the right to vote, and the right to express political preferences.'"
Essentially, England is saying that if the voters support a candidate who does not want to release his or her tax returns, that's their right and California can't stop them.
Lawmakers tried to pass the bill under previous Gov. Jerry Brown, who vetoed it as likely unconstitutional and worried that it would result in a slippery slope. England even quotes Brown's veto message in the ruling:
Today we require tax returns, but what would be next? Five years of health records? A certified birth certificate? High school report cards? And will these requirements vary depending on which political party is in power?
England adds his own concerns:
The list of allegedly "relevant" information required to obtain ballot access could therefore snowball out of control with no practical limitation as legislatures throughout the nation could impose their own qualifications on presidential candidates, perhaps for nakedly political purposes. That result cannot possibly comport with the Framers' goal for a fixed and nationwide standard for such federal offices.
The short-sighted stupidity of this law should be readily apparent to even the most casual observer, even if we were to set aside the severe constitutional issues with it. For instance, why wouldn't a state with a Republican legislature retaliate in a way that made it harder for Democratic presidential candidates to qualify for ballot access?
CNN notes that Democratic California Attorney General Xavier Becerra is likely to appeal the ruling. He really should read the whole thing, accept this law is doomed, and not waste any more taxpayer money. England does not give one single inch to any of California's arguments in the ruling and even points out that it's actually not true that every presidential candidate has historically released his taxes. Brown himself did not disclose his tax returns when he ran for president in 1992. Nor did Ross Perot. Nor did Ralph Nader in 2000.
It is a dumb, unconstitutional law, and to continue to defend it weakens the argument that Trump is a unique threat to Democratic and constitutional governance. There's nothing Democratic nor constitutional about trying to gin up reasons to keep a candidate from an opposing political party off the ballot.
Read the ruling for yourself here.