Trump's Ukraine Call Was an Abuse of Power—and This Time, He Can't Claim Ignorance or Inexperience
The whistleblower report alleges an attempted cover-up.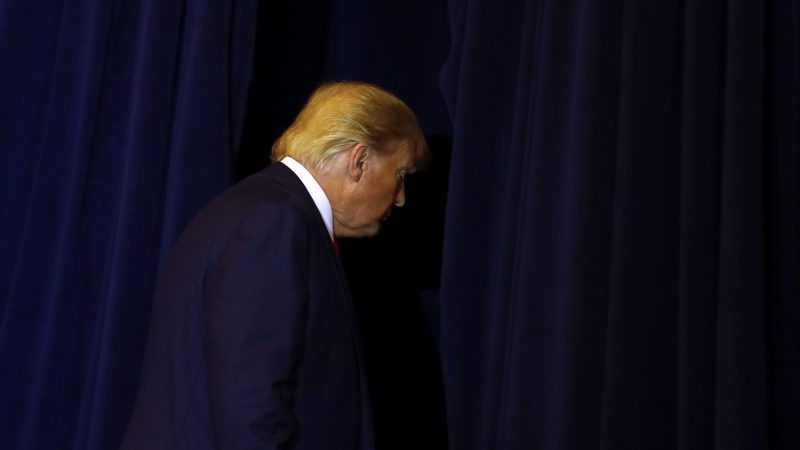 (CHINE NOUVELLE/SIPA/Newscom)
One method occasionally used to excuse or explain President Donald Trump's behavior is an appeal to the president's lack of formal political experience. After fired FBI chief James Comey testified back in 2017, for example, Paul Ryan, who was at the time the speaker of the House, said Trump is "new at this" and "not steeped in the ongoing protocols." 
It is no doubt true that Trump's background and temperament mean that he lacks a detailed understanding of the rules and protocols that govern the office he holds. Many of his actions can be viewed in that light. But in the case of Trump's July call to Ukrainian President Volodymyr Zelenskiy, details of which have sparked a formal impeachment inquiry in the House, Trump and his defenders can't reasonably claim he didn't know that what he was doing would look bad.   
First, the call, in which the president repeatedly pressed Zelenskiy to investigate former Vice President Joe Biden and his son Hunter, came after nearly two years of investigation into allegations of Russian collusion during the 2016 campaign. The key question in that investigation was whether Trump worked with a foreign country in order to swing the election. If nothing else, Trump should have learned that attempting to work with a foreign nation in a way that could advance his own political fortunes would be problematic. 
Yet that is exactly what the whistleblower complaint about the Ukraine call says that Trump did. 
The complaint opens by alleging that the still-anonymous author, who worked in the U.S. intelligence community, has received "information from multiple U.S. Government officials that the President of the United States is using the power of his office to solicit interference from a foreign country in the 2020 election." The report goes on to describe not only how Trump pressured Ukraine to investigate Biden, but how "multiple White House officials with direct knowledge of the call" were concerned that Trump used most of the call to "advance his personal interests."
The president reportedly requested that Zelenskiy pursue the Biden investigation with the help of Trump's personal attorney, Rudy Giuliani. According to the report, the White House officials who heard the call and relayed this information were "deeply disturbed by what transpired" and discussed what to do about the likelihood that "they had witnessed the President abuse his office for personal gain." 
One might reasonably argue that this is all secondhand and anonymous and that it should be corroborated by those unnamed officials. But it also conforms to much of what we already know from other sources. A reconstruction of the phone call released by the White House this week confirms that Trump pressed the Biden issue during the conversation, following a request by Zelenskiy for Javelin missiles, implying an understood quid pro quo deal.  
And there should be no doubt that that Giuliani was pursuing a politically motivated investigation in Ukraine, because Giuliani has repeatedly admitted this himself. 
In May, for example, Giuliani denied that his actions were illegal but said this about his Ukraine dealings: "Somebody could say it's improper. And this isn't foreign policy—I'm asking them to do an investigation that they're doing already and that other people are telling them to stop. And I'm going to give them reasons why they shouldn't stop it because that information will be very, very helpful to my client, and may turn out to be helpful to my government." 
This quote establishes that Giuliani—who, again, is not a government official, and thus not conducting ordinary diplomacy—was pursuing an investigation in Ukraine for the president's personal benefit ("that information will be very, very helpful to my client"). 
It also offers another reason why Trump can't claim innocence through inexperience: Even then, Giuliani, who was working closely on the Ukraine matter for Trump, understood that what he was doing could be viewed as improper. If the president's lawyer and pointman on a project knows it's shady, the president should too. 
If the whistleblower's report is accurate, there is good reason to believe that loyalists within the Trump White House also understood that Trump's behavior on the July call was improper, because they tried to shield it from scrutiny.
According to the report, White House officials were "'directed' by White House lawyers to remove the electronic transcript from the computer system in which such transcripts are typically stored" for sharing and other use within the administration. Instead, the records were to be stored in a more secretive and compartmentalized system designed for classified information. One White House official, the report says, described this as an "abuse" of the more secretive system, because the Ukraine call records did not belong there.  
The clear implication is that the call records were understood to be damaging, and thus were hidden from scrutiny. (Trump also personally ordered the delay of nearly $400 million in aid to Ukraine in advance of the call, possibly in violation of the constitutional separation of powers, and refused to provide an explanation.) 
Essentially, the report describes a cover-up. And you don't cover up records of activity unless you understand that activity was wrong. 
The whistleblower's account remains anonymous and uncorroborated. We need more firsthand, on-the-record information. But if the document is accurate, it strongly suggests that Trump knew that what he was doing was wrong and didn't want others to find out. 
Finally, even if ignorance ends up being part of Trump's explanation, it's damning in a different way. An ignorance defense at this juncture would amount to an admission that the best case for Trump is that after more than two years as president, he still has no idea what he's doing.