Another Multiracial Family Falsely Accused of Sex Trafficking While Flying
Plus: Juul targeted for smoking cessation claims, federal budget deficit tops $1 trillion, and more...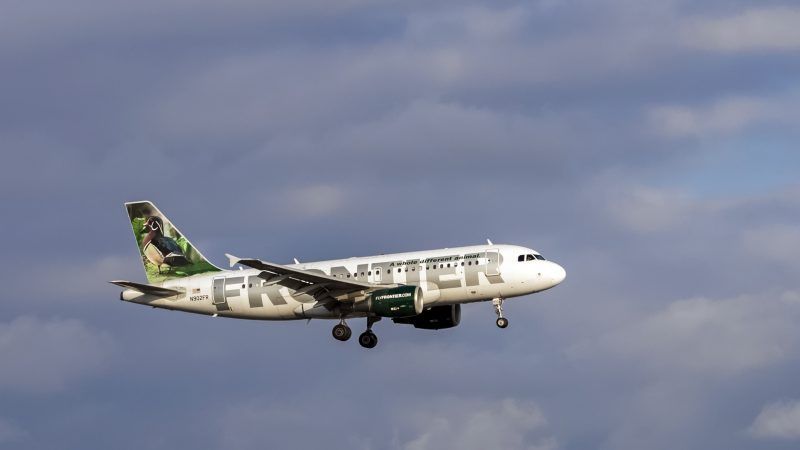 (Alexey Bychkov/ZUMA Press/Newscom)
Lawsuit alleges profiling by Frontier Airlines. In what's becoming a sadly regular occurrence, another multiracial family has been profiled by airline staff as being involved in human trafficking. In this case, 55-year-old Peter DelVecchia, a white man, was traveling with his adopted 12-year-old son, who is black. According to a lawsuit DelVecchia filed in federal court, Frontier Airlines staff accused him of sex trafficking his son and detained the boy in the back of the plane.
DelVecchia alleges that the only basis for this confrontation was the fact that he and his son don't have the same skin color.
This wouldn't be the first time that's happened. A rash of recent incidents on flights and at airports feature false fears of human trafficking that seem to be based on nothing more than staff or onlookers—including Cindy McCain—finding children or women traveling with a man of a different race or ethnicity to be suspicious.
Small-minded people like this have surely always existed. But these specific bits of speculative bigotry—the fear that folks are using commercial airlines to smuggle kids into "sexual slavery"—are part of a paranoid scheme spread by the Department of Homeland Security (DHS) and other authorities as part of "see something, say something" efforts. And as part of this, flight attendants and airport staff now get trained to intervene in what federal officials (falsely) portray as an epidemic of airline-based sex trafficking which can be spotted by good Samaritans who know the "signs."
These initiatives have been helped along by groups like the McCain Institute, where Cindy McCain heads an "anti-trafficking" arm and dubious viral stories about a "hero flight attendant" and others who trust their guts and save the day. But the only victims who seem to be unearthed in real life are the interracial couples and families who have been profiled and accused.
In DelVecchia's case, reports The Charlotte Observer, flight attendants were "merely acting on training to recognize potential human trafficking victims, Frontier said."
His son, called A.D. in the suit, was taken "against his will" to the back of the plane, according to DelVecchia's lawsuit against five Frontier employees. It says the son "asked repeatedly to be allowed to return to the seat beside his father, but [Frontier staff] would not allow A.D. to leave the seat in which [they] had placed him" for several hours. "They refused to believe that Peter and A.D. are father and son, despite being told so by both Peter and A.D."
In 2014, a whole plane was detained while police questioned an Asian woman and a Puerto Rican man who were traveling together. They were boyfriend and girlfriend, but police had decided the woman was likely being sex trafficked.
In 2017, "Brian Smith, from Arizona, was travelling back from a trip to Florida with his wife Renee and their three children, including Georgianna, 16, who the couple adopted from China," when a Southwest Airlines staff member accused Smith of trafficking his adopted daughter.
Earlier this year, McCain said that she had reported a woman flying a toddler of a different race to airport police, who later confirmed the woman was sex trafficking the child—but police say this was not the case.
---
---
FREE MINDS
Truth not approved by the FDA. The U.S. Food and Drug Administration is going after popular e-cigarette maker Juul for saying it can help people quit regular cigarettes, since the agency has not officially approved this messaging.
"It may be obvious anecdotally that vaping is a good way to wean yourself off smoking," notes TechCrunch. But because the FDA has not authorized such statements of reality, Juul may find itself in big trouble. In a recent letter, the FDA requested that the company "provide any and all scientific evidence and data, including consumer perception studies, if any, related to whether or not each statement and representation explicitly or implicitly conveys that JUUL products pose less risk, are less harmful, present reduced exposure, or are safer than other tobacco products."
---
FREE MARKETS
Just in from @USCBO: federal budget deficit has topped a trillion dollars in the first 11 months of FY 2019. That's $168-billion more than in the same period last year. FY2020 begins October 1. Congress will need to enact a stopgap spending bill to avert a Govt shutdown.

— Mark Knoller (@markknoller) September 9, 2019
---
QUICK HITS
Bill de Blasio's proposed "robot tax" is completely unnecessary (just like his presidential candidacy), writes Reason's Eric Boehm.
A new true crime series looks at the murders of eight sex workers in Louisiana. The show, Murder in the Bayou, "casts intense doubt on the official version of events, and suspicion on [one local man] and his cop pals," notes The Daily Beast.
Los Angeles moves to further criminalize homelessness:
Los Angeles is considering a ban on sleeping on streets and sidewalks within 500 feet of schools, parks and day-care facilities. This interactive map by @stiles, @ryanvmenezes and @AlpertReyes shows just how far-reaching the homelessness policy would be: https://t.co/SZRvRFl6if pic.twitter.com/MBQleCJqq8

— Laura J. Nelson ???? (@laura_nelson) September 9, 2019