Investigators Identify a Possible Culprit in Vaping-Related Respiratory Illnesses
The findings reinforce the suspicion that patients' symptoms are caused largely by additives or contaminants in black-market THC products.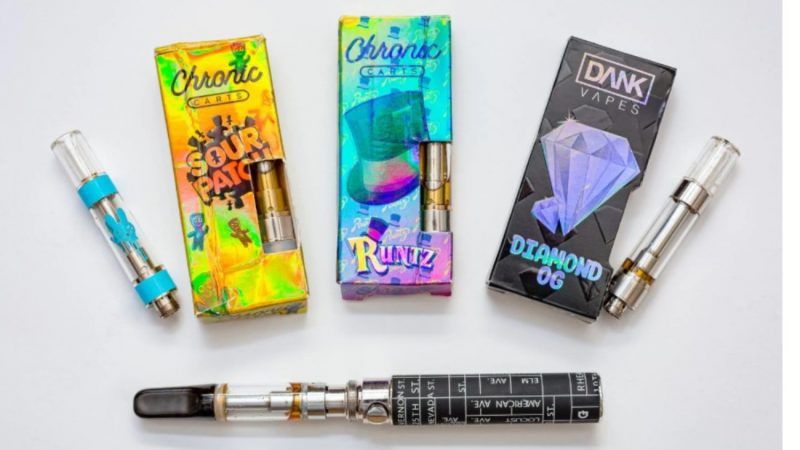 (NYS Department of Health)
Federal and state investigators have identified a common element in many of the cases where people have suffered respiratory illnesses after vaping. The Washington Post reports that tests by the Food and Drug Administration (FDA) found vitamin E acetate, an oil-based nutritional supplement, in 10 of 18 THC fluids used by patients, while a New York state laboratory found "very high levels of vitamin E acetate in nearly all" the cannabis extracts it tested. That substance was not found in any of the nicotine e-fluid tested by the FDA or the lab.
These findings reinforce the suspicion that the respiratory illnesses reported to the U.S. Centers for Disease Control and Prevention (CDC)—215 at last count—are caused largely by additives or contaminants in black-market THC products. Illegal nicotine products may also have played a role in some of these cases, although so far the CDC and the FDA have not identified a common element in patients who vaped nicotine. Notwithstanding attempts to blame these illnesses on the use of legal nicotine products, there is no evidence that standard e-cigarettes are causing the patients' symptoms. That insinuation was always implausible, given that e-cigarettes have been in wide use for years and these conditions were reported only recently.
While vitamin E acetate is safe to consume orally as a nutritional supplement, it is potentially dangerous when inhaled. As the Post explains, citing Bryn Mawr chemist Michelle Francl, "When that vapor cools down in the lungs, it returns to its original state at that temperature and pressure, she said, which means 'it has now coated the inside of your lungs with that oil.'" That observation is consistent with reports from Utah of lipoid pneumonia, a rare condition caused by fat particles in the lungs, in patients who had vaped cannabis extracts.
"Vitamin E acetate is not an approved additive for New York State Medical Marijuana Program-authorized vape products and was not seen in the nicotine-based products that were tested," the New York State Department of Health said in a press release issued yesterday. "As a result, vitamin E acetate is now a key focus of the Department's investigation of potential causes of vaping-associated pulmonary illnesses. Vitamin E acetate is a commonly available nutritional supplement that is not known to cause harm when ingested as a vitamin supplement or applied to the skin. However, the Department continues to investigate its health effects when inhaled because its oil-like properties could be associated with the observed symptoms."
Assuming that vitamin E acetate is the culprit in many of these cases, it is clearly not a complete explanation, since it was not detected in all of the fluids vaped by patients. The FDA and the CDC are still trying to figure out which other agents may be causing the respiratory illnesses.
In states that have reported what patients were vaping, Boston University public health professor Michael Siegel notes, the vast majority of cases have involved THC oil: all 21 cases in California, all eight cases in New Mexico, and 24 of 27 cases in Wisconsin. But despite the evidence implicating black-market THC products, public health officials are continuing to issue general warnings about "vaping" and "e-cigarettes," implying that all such products are equally dangerous. Today, for instance, the CDC reiterated its recommendation that "people should consider not using e-cigarette products," although it did add that "people who use e-cigarette products should not buy these products off the street and should not modify e-cigarette products or add any substances that are not intended by the manufacturer."
Siegel thinks the CDC's vague warnings are doing the public a disservice. "In their zeal to demonize e-cigarettes," he writes, "the CDC and other health agencies have put the lives of our nation's youth at risk."
The risk is twofold. First, without specific information about the potential hazards of black-market THC oil, people may continue to use those products. Second, people who have switched from combustible cigarettes to e-cigarettes may switch back, even though smoking is indisputably much more dangerous, while smokers who had been considering a switch to e-cigarettes may decide to continue smoking. Both of those choices increase the risk of respiratory illnesses, along with the litany of other diseases caused by smoking. You might think that government officials who claim to be promoting public health would recognize those hazards.