Bernie Sanders Leads the Anti-Charter School Charge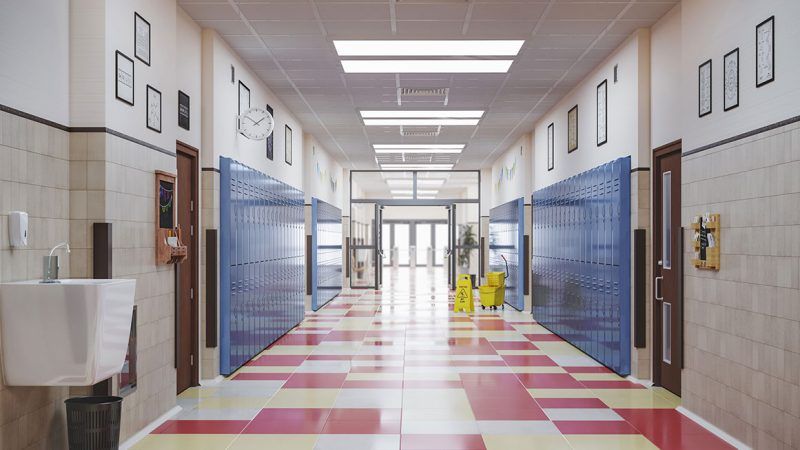 "I believe in public education, and I believe in public charter schools," explained Sen. Bernie Sanders (I–Vt.) at a CNN town hall in March. What the candidate for the Democratic presidential nomination doesn't believe in, he said, are "privately controlled charter schools."
The problem with that distinction is that all charters are privately controlled to some degree. They are also all public schools, funded with taxpayer money. That dual nature is what distinguishes charter schools from every other kind.
Sanders clarified his stance when he released an education plan in May. While he wants more "accountability" for nonprofit charters, he would entirely ban their for-profit counterparts.
According to data obtained from the National Alliance for Charter Schools, schools run by for-profit companies make up roughly 12 percent of charters nationwide. One of the goals of these schools—at least on paper—is to make money. Regardless of what they do for their students, that makes for-profit charters a perfect target in the eyes of democratic socialists like Sanders.
How well they serve students matters, however. Such charters exist because parents prefer them to the state-run alternative. "Charter schools are held accountable by parents, who can choose or not choose to enroll their children there," says Lindsey Burke, the Will Skillman Fellow in Education at the Heritage Foundation. "Charters only receive [public] funding if families are selecting into them."
By contrast, Burke says, "public schools are in the position of near-monopolies that receive students—and funding—regardless of how poorly they perform. Those interested in 'accountability' should start by turning a critical eye toward the traditional public school system, where fraud and financial mismanagement is, unfortunately, a reality for districts across the country."
Sanders would likely counter that for-profit charters are partially responsible for low student achievement. Online charter schools, in particular, present a conundrum for charter devotees: Studies show that those students exhibit weaker academic performance in both reading and math.
But even that model has its place, argues Burke. "Online charters are serving the needs of students who in some cases cannot attend a brick-and-mortar school, or who want to try an individual course, or who have been completely left behind by the traditional public school system," she says. "In some cases, online options are providing important credit recovery options and drop-out prevention tools."
These educational alternatives have become scapegoats for poor outcomes in traditional public schools, from whom charters supposedly siphon difference-making dollars. But charter schools collect just 64 percent of the funds that traditional public schools receive. Students enrolled in the latter cost an average of $13,764 in state funding per year, or nearly $170,000 for each individual who receives a K–12 education. Yet only one-third of high schoolers are able to read proficiently.