Hong Kong's Market Is Providing Gas Masks and Protest Gear Despite Government Crackdown
Despite police harassment and border confiscations, protest supplies continue to make their way to dissidents.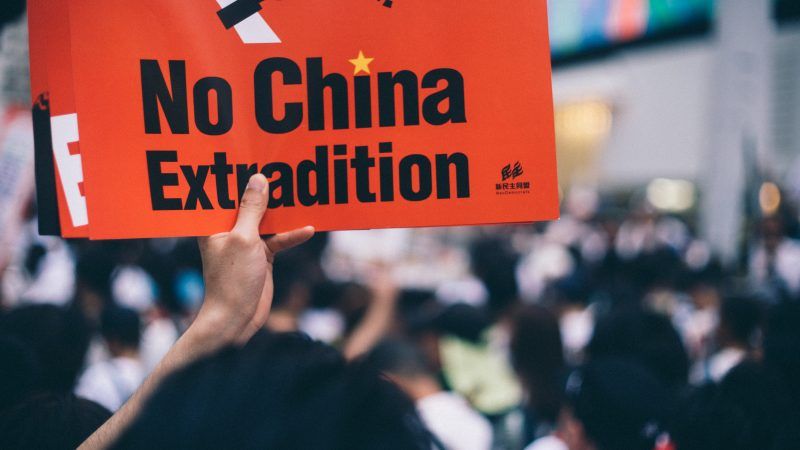 In an effort to suppress the anti-extradition treaty protests that have rocked Hong Kong for more than two months now, Hong Kong police are cracking down on businesses that sell helmets, goggles, and gas masks. The Washington Post reports that sellers have been harassed and intimidated by the police for providing gear to protesters and that one mask-seller had 20 officers show up at his place of business and pressure him to comply.
But Hong Kong has a market system, and savvy entrepreneurs have found ways to skirt state intrusion into the marketplace. Lee Ching Hei, interviewed by the Post, is flouting these informal regulations and sticking it to government employees while he does it:
"At big protests, [Lee] rents a stall nearby and sells packets containing an eye mask, respirator, gloves and helmet. The packet costs him about $64, but he sells on a pay-what-you-can basis. The student price is $1.27…At a recent protest, Lee said, about 20 police came to his stall looking for 'laser pens or other dangerous goods.'

He packages his supplies in black plastic bags. That way, protesters won't get stopped on the streets, and if the police want to know what's inside, they need to buy it. He said he charges government staff about 1,000 times the student rate.

'This is my business, not the government's,' he said."
Some mainland China suppliers refuse to ship masks and helmets to the special administrative region; Hong Kong is technically part of China, but retains significant independence under the "one country, two systems" policy that's been in place since 1997. Those who do ship supplies sometimes have them seized at the border. Hong Kong police have designated all kinds of protective gear "threats," and Beijing has referred to the pro-democracy protesters as "terrorists," but the gear isn't illegal to sell or own.
In the midst of these crackdowns, helmets, water, and respirators have been donated and left at an outpost by older Hongkongers looking to help the dissident young. "There are stories of strangers picking up tabs for protesters, eating at restaurants, and there are supply stations like this stocked with gas masks, gloves, water, and other supplies," reports Alan Wong, from the media outlet Inkstone. People are also leaving free transit passes out in stations, so protesters can avoid having a digital footprint.
"Many supporters of the protests don't want to be on the front line, but they still want to voice support with their wallets," Wong writes.
The protests, which started in early June, are a response to an extradition treaty that was being considered by Hong Kong's Chief Executive, Carrie Lam. The treaty would have allowed suspected criminals to be sent to mainland China for punishment. While Hong Kong is technically part of the People's Republic of China (PRC), Hongkongers have more democratic power and better due process rights than citizens on the mainland.
The extradition treaty was suspended, but not fully pulled, in June. Many Hongkongers claim this isn't the last they'll see of this bill or ones like it. They are using this political moment to voice their discontent with increased Chinese influence, which threatens their traditions of free speech and free assembly. They're also calling for Lam to resign, and for the extradition bill to be permanently pulled instead of tabled.
This isn't the first time Hongkongers have protested increased influence from the mainland. About half the people protesting now also participated in the 2014 "umbrella movement" protests, held in reaction to China tampering with Hong Kong's method of electing their chief executive.