Hong Kong Protesters Attacked Two Chinese Men Tuesday As Demonstrations Against Extradition Treaty Escalate
Pro-democracy dissidents turned violent yesterday at Hong Kong's airport.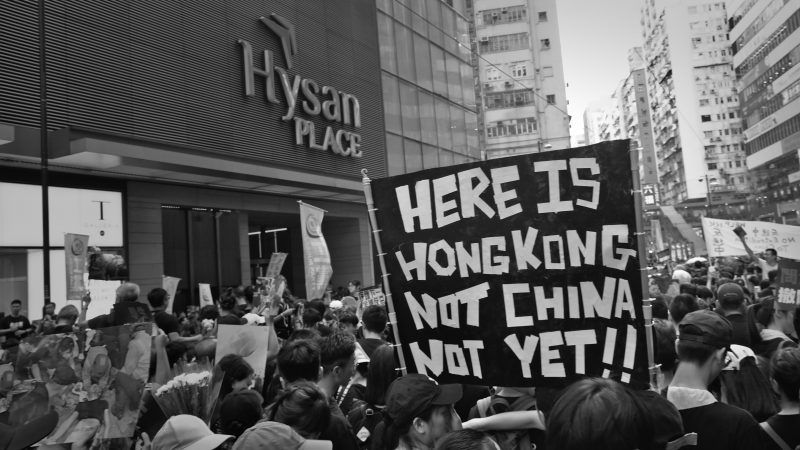 (Peter Y. Chuang, Unsplash)
On Tuesday, Hong Kong residents protesting an extradition treaty with mainland China held two men hostage for several hours in Hong Kong's Chek Lap Kok Airport. The protesters, who have been demonstrating against the treaty for 10 weeks now, zip-tied the men's hands, beat them, and prevented paramedics from taking them out of the airport despite one of the men allegedly losing consciousness from his injuries.
A few protesters on the ground reportedly attempted to advocate for the paramedics, while the majority of the crowd refused to let them pass. Onlookers described the scene as much more chaotic than in days past.
The scene from above, showing the paramedics team trying to leave the premise. #HongKongAirport pic.twitter.com/6wmwxAtSsT

— Michael Zhang 張雨軒 (@YuxuanMichael) August 13, 2019
Eventually, paramedics were able to get the two men out. Both were treated for injuries and are expected to recover fully.
This is the most out of control, angry and just plain nasty I think I've ever seen a protest in Hong Kong. Unlike clashes with police, no matter how violent, this is hundreds vs one person, and a handful of paramedics desperately trying to help.

— ???????????????????? ???????????????????????????????????? ???????????????????????????????????? (@jgriffiths) August 13, 2019
The Wall Street Journal reports that
At one point, some protesters suggested they would let the man go but others dissented. A handful of airport officials attempted to intervene but were rebuffed. A small group of protesters tied the man up and shuffled him around the stiflingly hot airport hall for three hours, chanting "Bear the consequences."

On mainland China's Twitter-like microblogging service Weibo, users showed footage of one of the men who had been beaten in which he appeared to be unconscious and breathing through an oxygen tube. Many users expressed shock and anger at the assault in online comments.
Today, some protesters posted signs in Hong Kong and messages online apologizing for the violence. Protesters also issued an apology to the general public. The protesters have repeatedly tried to explain what they're fighting for and to communicate to visitors of Chek Lap Kok airport that they regret the inconvenience.
The two men were attacked at the airport because protesters suspected them of being pro-PRC infiltrators. One of the men is reportedly a police officer in Shenzhen, a city in the People's Republic of China (PRC) that links Hong Kong to the mainland, while the other man is a reporter for the Global Times, a Chinese state-owned media outlet whose coverage must comply with PRC censors.
The protests against the extradition treaty, which some Hongkongers fear would increase the PRC's control over Hong Kong, recently turned dangerous. Earlier this week, videos emerged of Hong Kong police using non-lethal bean bag rounds against protesters, which resulted in several people being sent to the hospital. The police also made a number of arrests by embedding plainclothes officers with demonstrators, feeding protesters'  suspicions that other non-dissidents were hiding among them.
Young Hongkongers are fighting the extradition treaty (which would also include an extradition agreement with Taiwan) because they fear it will empower mainland China to erode the rights they currently enjoy as a semi-autonomous "special administrative region" of the PRC. These young Hongkongers have never really known a non-democratic Hong Kong, and are intensely opposed to the prospect of being governed by the mainland.
Escalating police and military tactics have fostered warranted paranoia among protesters that their movement will fall due to either Chinese government suppression or infiltration. Earlier this week, the Chinese military stationed tanks in Shenzhen, presumably due to its easy access to Hong Kong—a thinly-veiled warning for protesters to comply or face the consequences.