A Cop Tied to KKK Memorabilia May Have a Fatal Shooting Reviewed
Prosecutors are looking into a framed KKK document found at a house belonging to Charles Anderson, a Michigan police officer of over 20 years.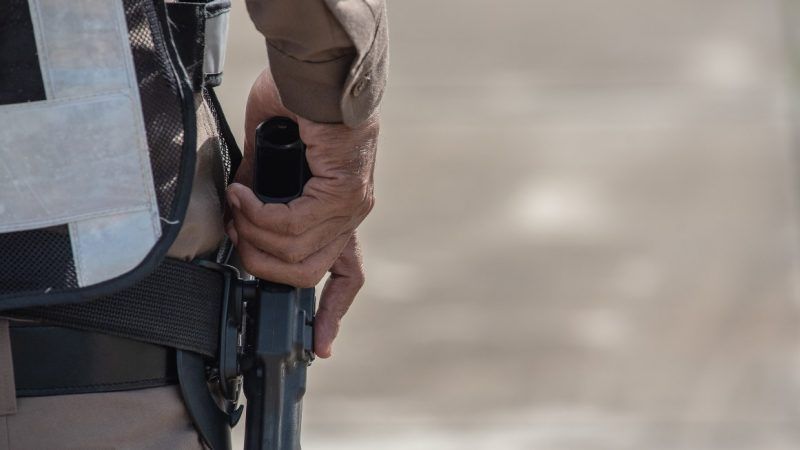 (Somsak Suwanpa/Dreamstime.com)
After being tied to Ku Klux Klan memorabilia, a Muskegon, Michigan police officer may have a fatal shooting incident reviewed.
When Rob Mathis, a black man, toured a house for sale, he and his wife found a Confederate flag and a framed application to the KKK on the wall. Mathis posted a picture of the KKK document online, writing that he would not be making an offer on the home and promising to look "at resources to expose your prejudice." Though he did not name the owner of the house, Mathis did reveal that the owner was a police officer in the community.
"I feel sick to my stomach knowing that I walk to the home of one of the most racist people in Muskegon hiding behind his uniform and possibly harassing people of color and different nationalities," Mathis wrote in the post, which is no longer available.
The owner of the house is Charles Anderson, a white police officer who has served the Muskegon community for over 20 years. Anderson has since been placed on administrative leave pending an investigation into the memorabilia.
Since Mathis' post went viral, the Muskegon County Prosecutor's Office will use a probe to determine whether or not a fatal September 2009 shooting involving Anderson and a black suspect, which was cleared by Tony Tague, the city's former prosecutor, will be reviewed.
According to Tague's report, Julius Johnson was sitting in the front seat of a car that was pulled over for making an improper turn. The officer who pulled the car over asked for backup after saying he smelled marijuana.
Anderson, who was one of the responding officers, checked Johnson for paraphernalia in a pat-down. When a bag believed to be full of crack cocaine fell from Johnson's person, he ran. Anderson pursued and a physical confrontation ensued when he caught up:
At that point, a bag of suspected crack cocaine fell from Johnson, Johnson fled and Anderson pursued him on foot, the report states. When Anderson caught up with Johnson, they both fell and Anderson wound up on his back with Johnson on top of him, according to the report.

As Anderson called for help, Johnson grabbed his police radio and began beating Anderson in the face and head, later using a different blunt object, the report states. Anderson tried spraying pepper spray at Johnson, but Johnson took it and sprayed it on the officer, the report states. Likewise, Anderson tried using his baton on Johnson, but Johnson snatched that away too.

With blood and pepper spray in his eyes and the beating continuing, Anderson grabbed his gun, warned Johnson he would shoot and then shot him point blank in the left arm with the bullet traveling into Johnson's chest, killing him, the report states. Anderson later underwent surgery for broken facial bones.
Tague concluded that Anderson's actions were justified to save his life.
The Muskegon County Prosecutor's Office did not respond immediately to a request for comment.