Trump Says Mueller Report Found No Evidence of Obstruction of Justice. Robert Mueller Tells Congress Otherwise.
Mueller's testimony before the House Judiciary Committee this morning contradicted the president's oft-made claims that the special counsel's report cleared him of any wrongdoing.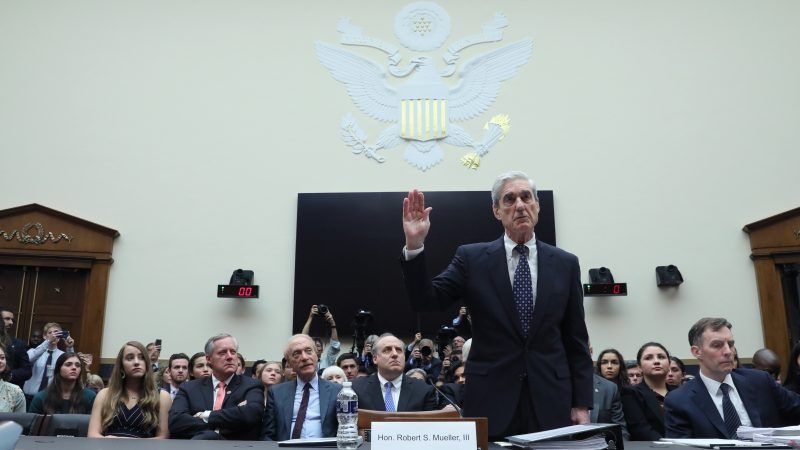 (Jonathan Ernst/picture alliance / Consolidated/Newscom)
President Donald Trump has repeatedly claimed that the report from former Special Counsel Robert Mueller into Russian election interference found no obstruction of justice on Trump's part. That's news to former Special Counsel Robert Mueller.
In a flurry of early morning tweets, the president laid into Mueller and his investigative team of "18 angry Democrats" for running a witch hunt that nevertheless found no collusion between the Trump campaign and the Russian government and no obstruction of justice by Trump personally.
"NO COLLUSION. NO OBSTRUCTION!" tweeted Trump.
NO COLLUSION, NO OBSTRUCTION!

— Donald J. Trump (@realDonaldTrump) July 24, 2019
The president is largely correct on the first point. Mueller's investigation did not find evidence of a criminal conspiracy between the Trump campaign and the Russian government.
However, in his much-anticipated testimony before the House Judiciary Committee this morning, Mueller implicitly contradicted the latter half of the president's tweet.
At the outset of today's hearing, Justice Committee Chairman Rep. Jerry Nadler (D–N.Y.) read aloud a quote from Mueller's report in which he said:
"If we had confidence after a thorough investigation of the facts that the president clearly did not commit obstruction of justice, we would so state. Based on the facts and the applicable legal standards however, we are unable to reach that judgment."
"Does that say there was no obstruction?" asked Nadler, to which Mueller bluntly answered, "No."
In answer to a follow-up question from Nadler, Mueller again confirmed that his report did not totally exonerate Trump.
Indeed, Mueller's report found a number of acts on Trump's part that were "capable of exerting undue influence" over the investigation, including an ultimately ignored order given to White House Counsel Don McGahn to fire Mueller.
As Mueller stressed in his testimony, he is limited in how much he can affirmatively say about Trump's possible obstruction of justice.
"At the outset, we determined that when it came to the president's culpability, we needed to go forward after taking into account the [Department of Justice Office of Legal Counsel] opinion that a sitting president can't be indicted," Mueller said.
Mueller's finding that Trump had not been found innocent of obstruction of justice was seized on by Republicans on the committee, who said this was a violation of the principle that one is innocent until proven guilty.
"You wrote 180 pages about decisions that weren't reached, about potential crimes that weren't charged," said Rep. John Ratcliffe (R–Texas) to Mueller. "Donald Trump is not above the law. He's not. But he damn sure shouldn't be below the law."