Anti-Vaping Researchers Claim E-Cigarettes Cause Heart Attacks Before Smokers Try Them
A study suggesting that e-cigarettes double the risk of a heart attack ignored crucial information on timing.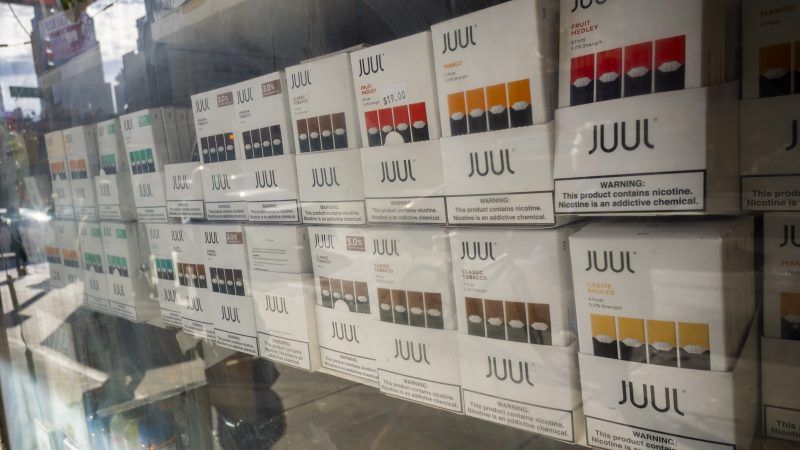 (Richard B. Levine/Newscom)
Last month the Journal of the American Heart Association published a study that claimed "e-cigarette use is an independent risk factor for having had a myocardial infarction." Based on data from the Population Assessment of Tobacco and Health (PATH), the researchers found that vapers were twice as likely to report heart attacks as subjects who had never smoked or vaped. In a blog post, study co-author Stanton Glantz, a longtime anti-smoking activist who directs the Center for Tobacco Research Control & Education at the University of California, San Francisco, described that finding as "more evidence that e-cigs cause heart attacks."
But according to Brad Rodu, a tobacco researcher at the University of Louisville, most of the e-cigarette users who reported heart attacks had them before they started vaping, which makes Glantz's causal inference logically impossible. In a July 11 letter to the journal's editors, Rodu noted that Glantz and his co-author, Dharma Bhatta, "failed to account for detailed information in that survey on (a) when participants were first told that they had a heart attack and (b) when participants first started using e-cigarettes."
When Rodu and University of Louisville research economist Nantaporn Plurphanswat looked at that information, they found that most of the 38 vapers who reported heart attacks "were first told that they had a heart attack many years before they first started using e-cigarettes." In that group, "heart attacks preceded first e-cigarette use by almost a decade on average." When Rodu and Plurphanswat ran the numbers without the subjects who started vaping after they had heart attacks, they found that "vapers were much less likely to have had a heart attack, not twice as likely."
In their study, Bhatta and Glantz acknowledged that "we cannot infer temporality from the cross-sectional finding that e-cigarette use is associated with having had an MI," and "it is possible that first MIs occurred before e-cigarette use." But instead of using the information provided by the survey to address that issue, they did a secondary analysis limited to subjects who had their first heart attacks in 2007 or later. They chose that year because it was when "e-cigarettes started gaining popularity on the US market."
Of course, that does not mean all 16 of the subjects in this sub-sample had heart attacks after they started vaping. In fact, Rodu and Plurphanswat found that it was the other way around in "more than a third" of those cases, as they noted in a follow-up letter yesterday. (They did not report the precise numbers because of limits on how PATH data can be used.) Even ignoring that crucial point, Bhatta and Glantz's secondary analysis did not find a statistically significant association between vaping and heart attacks.
When USA Today reporter Jayne O'Donnell asked Glantz about the glaring problems with his study, he bragged about being "a for-real rocket scientist," dismissed Rodu as a "tobacco industry apologist" because his research is supported by unrestricted grants from several tobacco companies, and claimed he and Bhatta would have found a statistically significant association if only the sample had been larger. But he conspicuously failed to address the puzzle of an effect that precedes its purported cause.
Rodu's interest in tobacco harm reduction long predates his receipt of industry funding, which he says he felt compelled to accept because government agencies refused to fund his research on smokeless tobacco as a safer alternative to cigarettes. In an interview with O'Donnell, New York University public health professor Ray Niaura, who said he does not think a connection between vaping and heart attacks has been established, vouched for Rodu, calling him a "fastidious scientist."
Glantz, it's fair to say, is a bit less fastidious. He has been slamming e-cigarettes as an evil tobacco industry plot for years, and he has repeatedly tried to cast doubt on the indisputable fact that they are much less hazardous than the conventional kind. "E-cigarettes should not be promoted or prescribed as a less risky alternative to combustible cigarettes," Bhatta and Glantz write, "and should not be recommended for smoking cessation among people with or at risk of myocardial infarction."
That conclusion is based on a study that considered only one of the risks posed by smoking and even then managed to imply equivalence only by ignoring obviously relevant information. "The main findings from the Bhatta-Glantz study are false and invalid," Rodu and Plurphanswat write in their July 11 letter to JAHA. "Their analysis was an indefensible breach of any reasonable standard for research on association or causation."
In their July 18 letter, they add: "Their inclusion of a secondary analysis is evidence that Bhatta and Glantz knew that many current e-cigarette users had a heart attack before they started vaping. The results of their secondary analysis confirm that their study results are false and invalid." They conclude by urging the journal's editors "to take appropriate action on this article, including retraction."