Relax, the Dominican Republic Hasn't Become Less Safe for Americans
Misleading media coverage took an immediate toll on the island's important tourism industry.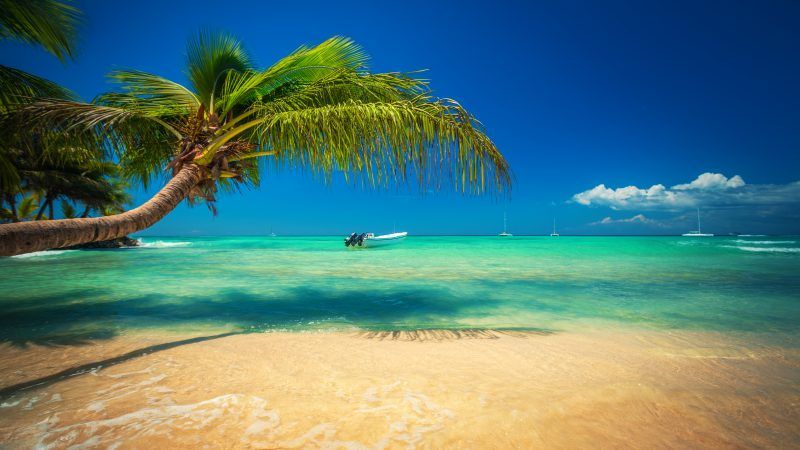 (ID 110331666 © Valio84sl | Dreamstime.com)
Following a handful of news stories about tourist deaths in the Dominican Republic, the number of flight bookings to the Caribbean country dropped 84 percent during June, according to ForwardKeys, a business intelligence firm that tracks commercial air flights. While the country's tourism industry appears to be bouncing back, new data analysis suggests there was never a good reason for Americans to fear traveling to the country. 
While a number of unexplained deaths did occur at resorts in the Dominican Republic during the first half of 2019, there's little to indicate that those incidents were out of the ordinary, or that more of deaths occurred than we should reasonably expect, given that people die, even on vacation. 
Using studies of Finnish, Scottish, and Australian tourist mortality, Daniel Engber of Slate argues that we should expect .0015 percent of tourists going to the Dominican Republic to die on their trip, with 73 percent of those deaths being from natural causes. Given that 2.7 million Americans go to the Dominican Republic, we should expect roughly 405 American tourist deaths a year, with 295 of them coming from natural causes—mostly heart attacks. 
As of June 27, nine Americans had gotten sick and died in 2019 in the Dominican Republic under supposedly "suspicious circumstances." There's no clear definition of what that means: Many of the deaths seemed sudden, and the FBI is still conducting toxicology tests. Several of these deaths were ruled heart attacks until some family members questioned the official story. The Dominican Republic government's response didn't do much to tamp down the hysteria, with the Ministry of Public Health spokesman Carlos Suero dismissing reports of mysterious deaths as "fake news." Despite his hamfisted handling of the media, he might be right. 
For comparison, between the beginning of 2017 and the end of 2018, 30 Americans died in the Dominican Republic of non-natural causes, such as accidents, drownings, homicides, and suicides. The nine deaths that have occurred thus far in 2019 are tragic for the people who died and for their families, but they are not out of the ordinary, especially considering how many Americans visit the D.R. each year. Even if all nine of these suspicious deaths turned out to be from non-natural causes, that wouldn't be a big divergence from previous non-natural death rates. 
American politicians nevertheless added to the panic. Senate Minority Leader Chuck Schumer (D–N.Y.) said the "recent spate of sicknesses and several deaths" deserved a federal response. Rep. Frank Pallone (D–N.J.) called for the State Department to consider increasing its travel advisory for the Dominican Republic from "increased caution," the second-least-severe warning the department offers. Schumer called for an in-depth investigation that would feature the Bureau of Alcohol, Tobacco, and Firearms assisting the FBI and local law enforcement. The supposed pattern of incidents became the story itself, with pieces about fear among tourists and advice for potential travelers. 
As the fever increased, even non-mysterious deaths became part of the trend. The New York Post published a story in late June about a man who died of a heart attack in the Dominican Republic in 2017. Another report from Fox News brought up a death from 2016.
The entire story arc is a useful example of how media panics begin, escalate, and then subside, leaving a trail of economic pain in their wake. While ticket sales have begun to rebound, June's dropoff will hurt in a country where tourism spending is directly or indirectly responsible for 22 percent of the economy. 
Fortunately, it seems that Americans have moved past the sensationalism—until the inevitable next panic over nothing.