Goodbye and Thank You to Brickbats Cartoonist Terry Colon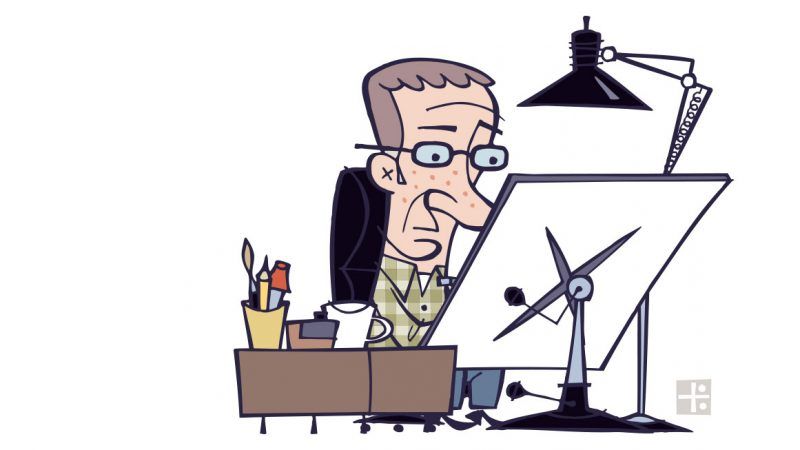 Terry Colon rose to indie comics prominence in the late 1980s and early 1990s. He was a prolific contributor to the pioneering web magazine Suck, where he shared a masthead with Reason Editor at Large Nick Gillespie and drew the illustration for the iconic tagline, "A fish, a barrel, and a smoking gun." At Reason, he has illustrated the short stories of abuse by authorities in the Brickbats section since 2006. He has also drawn for Entertainment Weekly, Cracked, Time, and many other publications.
Since joining Reason, Colon has generated an avalanche of art, but his Guernica is almost certainly "What Part of Legal Immigration Don't You Understand?"—an illustrated flowchart that details the maddening complexity of coming legally to the United States. The illustration appeared in our October 2008 issue; Colon also drew that month's cover.
Ahead of his pending retirement, Reason Editor in Chief Katherine Mangu-Ward emailed with the notoriously private Colon, 65, about his time in the drawing business. Even though most Reason staffers have never heard the sound of his voice and we're only 97 percent certain he exists at all, we will miss Colon's knack for bringing impish levity to the most infuriating news items.
We are pleased to announce that another alternative comics legend, Contributing Editor Peter Bagge, will be picking up where Colon leaves off, bringing his own perspective to Brickbats.
Q: Are there particular types of Brickbat stories you find more difficult or more fraught to illustrate?
A: Some image ideas come readily, others take some mulling, and some things simply don't lend themselves to any image, let alone a comical one. So, yes, some are more difficult, though I don't know if they are of a type.
It might be easier if I were doing literal depictions of the text, but the Brickbats are representations of an underlying concept, situation, absurdity, or whatever. Such things are not always easily depicted. In the end, I don't know how I generate picture ideas, let alone why sometimes I can't. Just one of those ineffable things.
Q: Are there types of Brickbats you look forward to? 
A: I prefer ones that lend themselves to an image readily, hopefully a comical, satirical one. Is that a type? I don't know. At any rate, it was nice to be able to pick which entries to illustrate myself.
Q: Have you ever met Charles Oliver, your longtime Brickbats colleague?
A: Afraid not. But in this computer age, I've not met or even spoke on the phone to most clients. They're email entities. Rather impersonal, but it's the modern way. Or maybe that's just me. I'm rather a private person.
Q: You came to Reason from Suck. What was your role at that site?
A: I was pretty much just the house cartoonist/illustrator. I had the title "art director," but there wasn't much directing to do. The site look was established before I joined, and it didn't much change. Though being art director meant I didn't have to run sketches by anyone for approval. I just did the art and that was that. And when you're cranking out four to 20 art spots daily, well, it saved time and aggravation, that's for sure.
Q: Where else can Reason readers see your work?
A: These days, pretty much nowhere except the Suck archives, my site, and maybe old magazines and books picked up at the flea market. I stopped taking on clients and eased into a sort of semi-retirement after I paid off my house some years ago. Reason was my last regular gig.
Q: Your style is extremely distinctive and identifiable. Who are some other cartoonists who influenced you or whose style you admire?
A: That's a tough one to answer. There are just so many and no one dominant influence. Off the top of my head, I'd cite Jay Ward (Rocky and Bullwinkle), Looney Tunes, Hanna-Barbera, and animated cartoons generally. Plus many influences I couldn't put a name to, like TV advertising animation from the '50s and '60s, for instance.
Cartoonists I admire are quite varied—Charles Addams, Virgil Partch, Bruce McCall, and many more—and extending back to the early 20th century, such as Winsor McCay and George Herriman. Most didn't influence my drawing, though maybe my sense of humor.
Q: Is it better or worse to be a cartoonist now than when you started?
A: On the one hand, computers have made it easier. On the other hand, the political correctness that has crept into the publishing industry certainly makes it more annoying and constraining than it was in the past. One reason I stayed with Reason to the end is they never made silly P.C. demands or requests.
Q: Are there any characters or subjects you won't draw?
A: Certainly. Porn; hardcore violence; Castro, Che, and Mao as heroes; stuff like that.
Q: Do you have a cartoon you typically use as your "author photo"? 
A: Honestly, I'm not much of a caricaturist.
This interview has been edited for style and clarity