Jon Stewart Is Sanctimonious, but Congress Should Be Better at Doing Its Job
The fight over the 9/11 Victim Compensation Fund is pure political theater.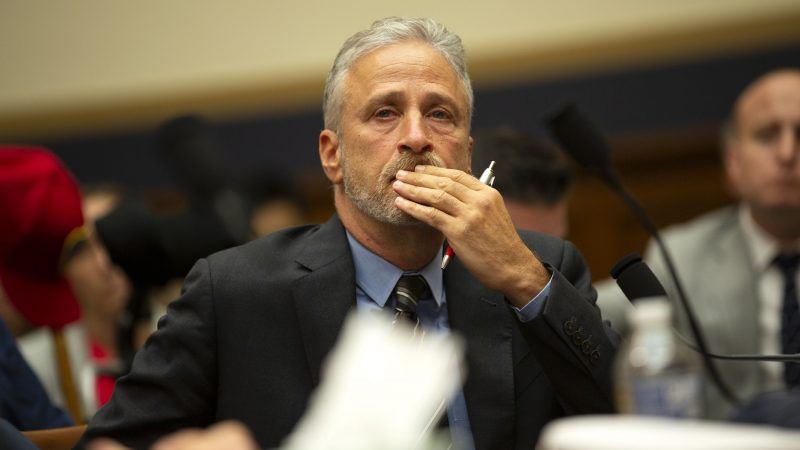 The September 11th Victim Compensation Fund—which provides financial assistance to 9/11 victims and their families—is running out. That fact became national news following comedian Jon Stewart's testimony in front of the House Judiciary Committee last week.
If nothing else, Stewart succeeded in eliciting an exasperated response from Senate Majority Leader Mitch McConnell (R–Ky.), who told told Fox News, "We have never failed to address this issue, and we will address it again. I don't know why he's all bent out of shape, but we will take care of the 9/11 victims compensation fund."
"I'll tell you why," Sen. Chuck Schumer (D–N.Y.) replied to McConnell on Twitter yesterday. "Because 9/11 victims are getting sicker, and the last time this bill came up you delayed."
The most recent version of the bill was passed in 2015 and is set to expire in 2020. The new bill—which unanimously passed the House Judiciary Committee last week—would extend funding until 2090.
McConnell says he plans to pass it. "Many things in Congress happen at the last minute," he told Fox News, in response to Stewart's accusations of procrastination.
Of course, a significant part of McConnell's tenure as Senate majority leader has been defined by his obstructionist tactics. Under his leadership, for example, the Senate has refused to consider bills on the Deferred Action for Childhood Arrivals program, even though such legislation enjoyed broad bipartisan support.
Jon Stewart may be a sanctimonious grandstander, but he does make at least one valid point: Congress should be better at doing its job.