New York City Landmarks Historic Bookstore The Strand Over Owner's Objections
"They want to put a bureaucratic noose around me," says Nancy Bass Wyden, third-generation owner of New York's best bookstore. "We're just asking to be left alone."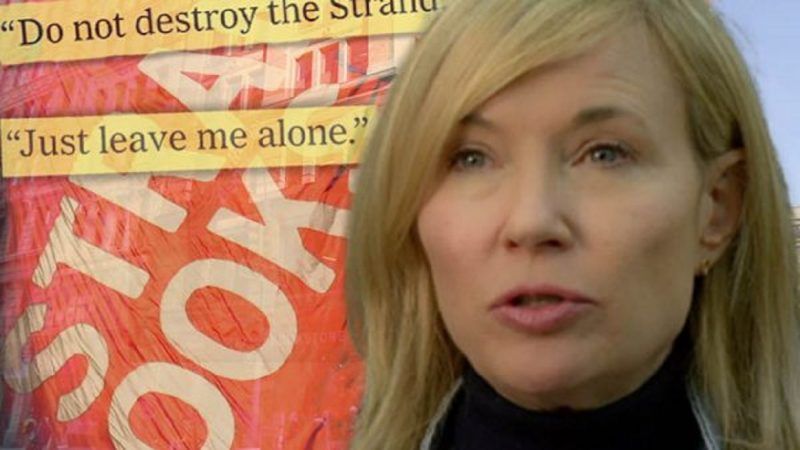 New York City's Landmarks Preservation Committee (LPC) just wouldn't take no for an answer. The group has conferred landmark status on the 119-year-old building at 826 Broadway, which has housed The Strand Bookstore since 1956. The owners of The Strand bought the building in the late 1990s and the third-generation owner of the store, Nancy Bass Wyden, opposed the action, telling Reason earlier this year:
The Strand is not going anywhere. There's no need to protect it. Our family's been a great steward of the building. Landmarking would add another component of government. You add bureaucracy, you add committees, you add people having opinions about what we should do inside the store as well as outside the store. And that does not allow me the flexibility to change with the retail book environment and to serve our customers.
Bass Wyden (who is married to Sen. Ron Wyden, the Democrat from Oregon) presented 11,000 signatures to the LPC in hopes of dissuading landmark status. Such popular support for what is generally considered New York's best bookstore cut no mustard. In announcing the new status, the head of the LPC waved away any worries that the commission will be difficult to work with:
"I'm confident that the commission's review of the masterplan and any future applications will provide [the] flexibility the Strand needs to remain nimble and innovative and to continue its important place in New York City, and adapt to a changing retail climate," Sarah Carroll, LPC chairwoman, said at Tuesday's meeting.
In an interview and video produced earlier this year, Bass Wyden begged to differ and described in detail the amount of bureaucratic hoops she already has to deal with.
We already have to go through the Building Department. We already have to get a permit. We already have to get an architect and an engineer. With a landmark designation, we have to go ask this committee that also oversees a huge number of other buildings in New York, and that will get back to us whenever they feel like it with an answer.

It took us two years to just complete the [renovation of the] front of the store without the additional layer of landmark status. When we did the restoration, we looked at the granite that was there before and we matched it. We did not need a committee to do that. We've operated the store for 91 years. We've been in this location for 65 years. We've owned the building for 20 years. We do not need their assistance.
New York's Landmarks Act was signed into law into 1965. It gives 11 unelected officials immense power to deny property owners the ability to modify, renovate, demolish, and rebuild their buildings. More than 36,000 buildings in Manhattan—more than one quarter of the total amount—have landmark status.
Watch Reason's video documentary on The Strand, which was written and produced by Jim Epstein.