ICE Failed to Properly Screen Veterans Before Deporting Them
ICE agents told investigators they were "unaware" of policies to avoid deporting veterans—the same policies the agency assured me it was following in 2016.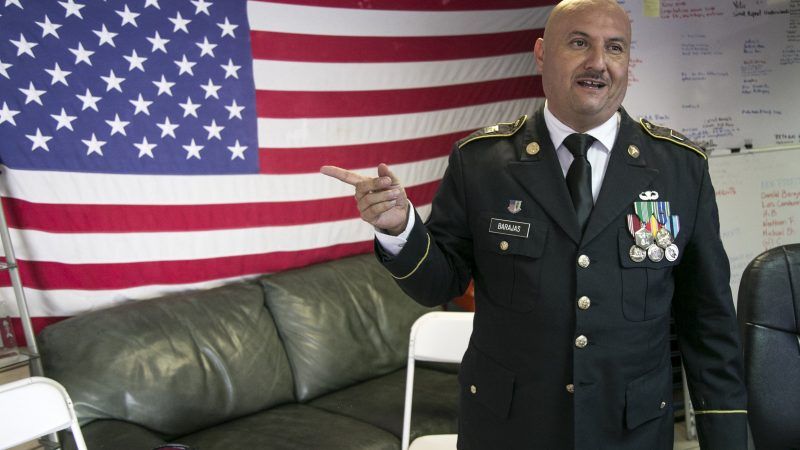 America's immigration enforcement agency respects the troops, except when it forgets and deports them improperly.
According to a report released last week by the Government Accountability Office (GAO), U.S. Immigrations and Customs Enforcement (ICE) agents regularly failed to follow procedures when deciding whether to deport former military service members. All veteran cases are supposed to get bumped up to a senior official for review, for example, but the agency didn't bother to do this in 70 percent of the relevant cases that the GAO reviewed.
ICE's criminal investigators told the GAO they were "unaware" of the policies. If true, ICE must have developed a bad case of amnesia sometime after 2016, when an agency spokesperson assured me that it "respects the service and sacrifice of those in military service, and is very deliberate in its review of cases involving veterans."
In 2016, I reported on deported U.S. military veterans living in Tijuana. Although the Trump administration's restrictions have led to a steep decline, noncitizens have traditionally been able to enlist in the U.S. military, and more than 100,000 lawful permanent residents—commonly called green card holders—have served since 2001.
But they can still be kicked out of the country if they later commit a deportable offense. They then face challenges getting medical care and other benefits they are supposedly guaranteed, the GAO found. (In a morbid bureaucratic twist, deported veterans are still eligible for burial on U.S. soil with full military honors. So basically, they're barred from reentering the country unless they're dead.)
According to its own policies, ICE is supposed to consider military service in deportation cases and elevate those cases to senior officials. In 2016, an ICE spokesperson told me that the agency "respects the service and sacrifice of those in military service, and is very deliberate in its review of cases involving veterans.
"Any action taken by ICE that may result in the removal of an alien with military service must be authorized by the senior leadership in a field office, following an evaluation by local counsel," the spokesperson said. "ICE exercises prosecutorial discretion on a case-by-case basis, when appropriate, for members of the armed forces who have honorably served our country. ICE specifically identifies service in the U.S. military as a positive factor that should be considered when deciding whether or not prosecutorial discretion should be exercised."
Yet ICE's investigative branch told the GAO that it was "unaware of the policies" prior to the GAO review, and that its agents "do not distinguish between veterans and nonveterans when conducting administrative or criminal investigations or when deciding whether to [initiate removal proceedings]."
I asked ICE to comment on the GAO report, noting the logical gap between what ICE told me what it told GAO investigators. An agency spokesperson replied that the agency stands by its statement. Rest assured, gentle reader, that ICE still insists it "respects the service and sacrifice of those in military service, and is very deliberate in its review of cases involving veterans."
The spokesperson also says that ICE's investigative team is required by law to detain and process for removal those who commit deportable crimes, and in all of the cases the GAO reviewed, "the individuals were placed into removal proceedings because of felony convictions related to drugs; sexual abuse, of which 18 involved minors; firearms, explosives, or explosive material; kidnapping; terrorist threats; and other crimes."
The spokesperson noted that detainees still receive additional review during immigration removal proceedings, and ICE has pledged to update its training in response to the GAO report.
Yet Hector Barajas—a former Army paratrooper who started a support group for veterans in Tijuana after finding dozens, like himself, who had been deported—tells The Washington Post he only saw ICE exercise its prosecutorial discretion in one single case.
No one knows just how many veterans have been deported. The government doesn't track such cases, although that's one of the GAO's recommendations.
"Deporting veterans represents a failure by our government that could have been prevented if ICE officials had been adhering to agency policies," House Committee on Veterans' Affairs Chairman Mark Takano (D–Calif.) writes in a letter to Acting ICE Director Mark Morgan. "This level of carelessness and disregard for official procedures is negligent and unacceptable."
Another Army and National Guard veteran I interviewed, Clayton Gordon, was arrested by ICE agents in 2013, three years after he successfully completed probation for cocaine possession. ICE detained Gordon for five months without a bail hearing, a practice a federal appeals court declared unconstitutional. Gordon then fought a five-year legal battle before a judge finally ruled last December that he could stay in the U.S.
"I still feel proud," Gordon told me in 2016, while his removal case was still pending. "I still have a flag in my yard. I don't care. It's a stupid law. It's just a thing that happens. In 1996 this wasn't happening. Wrong place, wrong time, I guess, but regardless I still love America. If they asked me [to enlist] again, I'd go again."