How Oppressive Will Connecticut's New Nail Salon Occupational Licensing Be? Stay Tuned.
To state Rep. Jillian Gilchrest, "Raising women up" apparently means depriving them of employment opportunities.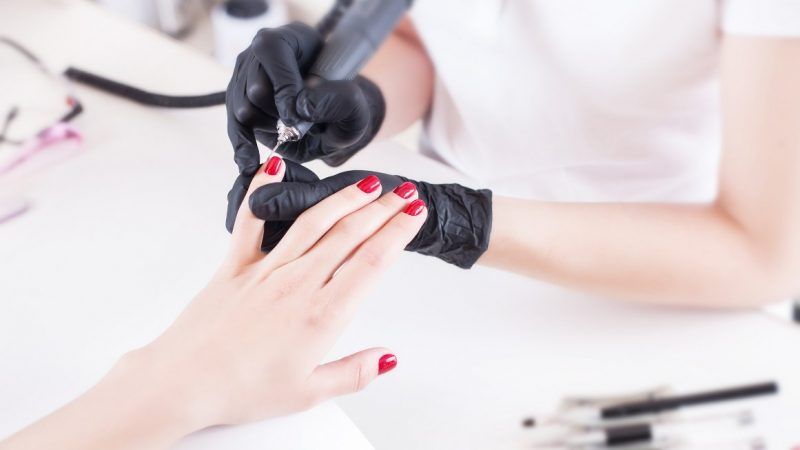 (Myrchella / Dreamstime.com)
Connecticut is the only state in the country that currently does not require minimum licensing to work in places like nail salons. That's a good thing! Or, it was.
This week, Democratic State Rep. Jillian Gilchrest (West Hartford) managed to push through legislation requiring new, costly inspections of salons and that all nail salon workers, skin care estheticians, and eyebrow technicians pay for state-mandated education and licenses in order to do their jobs.
Occupational licensing of service sector jobs deprives workers—including many minorities, women, and immigrants—from access to entry-level jobs. A review of academic literature performed by the White House Council of Economic Advisers, the Treasury Department, and the Department of Labor found that licensing workers in these fields does not protect consumer health or safety. Licenses also drive up the cost of services and restrict mobility.
Nevertheless, Gilchrest claimed that the lack of licensing in Connecticut's beauty industry is a health hazard, and insisted that women are getting injured by unlicensed workers and unsafe salons. She also said that salons in Connecticut are hotbeds of human trafficking, a claim that couldn't stand up to scrutiny when she first introduced her bill back in February.
Unsurprisingly, Gilchrest's tweet celebrating the passage of HB 6742 in the House doesn't mention anything about human trafficking:
CT is the only state the doesn't license nail technicians & estheticians. Today, we took a step toward changing that! pic.twitter.com/JNcg1iVpus

— Jillian Gilchrest (@Jilchrest) May 23, 2019
The first part of Gilchrest's bill gives Connecticut Department of Health inspectors more specific instructions for developing sanitary standards for salons. Local health departments within the state will have the authority to inspect facilities annually and charge fees up to $250 for each inspection. The bill itself notes that this is intended to raise money and the bill's fiscal impact section projects a net revenue gain.
Gilchrest's bill will also impose new regulations and requirements for wannabe manicurists and eyebrow-threaders, but we don't know yet what they'll be. The Department of Public Health will send "scope of practice" surveys to people working in the field, and workers will then describe what they do and what they see as the minimum education and training requirements.
Connecticut will then put together a commission to write regulations for the industry. This panel will be made of up of people already in the industry as well as educators, who will stand to benefit from a law that legally requires workers to pay for their educational services. Everybody likely to be involved in writing the regulations will have some sort of incentive to erect obstacles to people currently outside the industry. Beauty schools will likely push for as many mandatory educational hours as possible, and current workers may ask to be grandfathered in. Future estheticians will pay the costs of getting these jobs, many of them with student loans. Some would-be estheticians will not be able to afford this career path at all.
Decades ago, Connecticut required manicurists to receive 500 hours of education in order to legally practice. That ended in 1980 and efforts since then to reinstate licensing have failed. (For comparison's sake: Connecticut currently requires emergency medical responders to receive 60 hours of education, and that emergency medical technicians receive 150 hours of education.)
Gilchrest failed to provide any data that nail salon customers are at greater risk of harm than customers in states where nail salon workers are licensed. Instead, we get amazing stories—like this one from Connecticut's National Public Radio affiliate—that suggest it's sexist to not demand licenses and mandate education for nail salon workers. This claim comes from women within the industry who want the state's stamp of approval for their work (and the income premium that comes from erecting a barrier to entry behind them). Note that the voices in this NPR story are people who are manicurists, not customers. They don't even talk to nail salon customers in Connecticut to get a sense of whether women feel as though they are at risk due to a lack of occupational licensing.
The bill also passed the Senate and heads to the governor's desk. Meanwhile, Gilchrest's victory tweet is getting a hefty amount of pushback from people who know what occupational licensing in the cosmetology field actually does to women in the job market. Not a few are looking askance at Gilchrest's profile claim that she's committed to "Raising women up."
The Connecticut House this week also approved a budget plan that will raise an estimated $2 billion in new tax revenue extending sales taxes to more goods and services like dry-cleaning, interior design, and parking, as well as additional taxes on prepared foods, digital downloads, short-term housing rentals, and alcohol. There will also be a 10-cent surcharge on single-use plastic bags. This surcharge is temporary because single-use plastic bags will be banned by 2021.