Seattle Doesn't Want You To Have A Big House
Proposed legislation aims to crack down on "McMansions."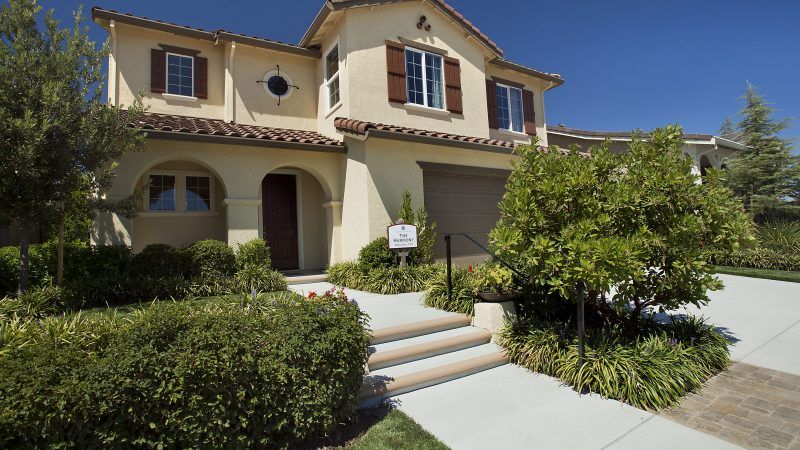 (Randall Benton/ZUMA Press/Newscom)
In good news for people suffering from Seattle's high housing costs, the city is considering a plan to expand the number of backyard cottages, basement apartments, and "accessory dwelling units" allowed in some residential neighborhoods. Yet at the same time, Seattle City Council members are considering a ban on building big homes.

A proposal from Seattle Councilman Mike O'Brien would limit the construction of larger houses, deemed "McMansions," by constraining the floor area ratio allowed when building new homes. 
O'Brien first started this push in 2016, as a means to try and combat homelessness in Seattle. His proposal would increase the maximum size limit for backyard and basement units to 1000 square feet, as well as increase the maximum number of occupants allowed from 8 to 12. It also would eliminate existing requirements that the owner reside in the building and that there be at least one street parking space available per unit.
Such changes would allow people to live more densely in desirable neighborhoods and create more rental housing options. But in conjunction with these changes, O'Brien also wants to limit local residents' options when it comes to larger and single-family homes.
"You see people who tear down a house and build a larger house that may be out of scale and that doesn't add any housing," O'Brien told the Seattle Times. "They're replacing a less-expensive housing unit with a more-expensive housing unit."
He wants to stop it.
Yet houses that would be restricted with the new proposal are the most popular types of houses being built in Seattle—a fact that is not just acknowledged by O'Brien but given as a reason to restrict them.
"When people are building new houses, they're building these huge structures, a lot larger than the typical structure," O'Brien told the Times. "That reinforces the urgency around this policy."
A Seattle Times inquiry showed that 47 percent of all houses built in the last decade would not have been allowed to be built had this housing plan been in effect in 2010.
Still, "McMansions" aren't the real issue with Seattle housing, says radio host Jason Rantz, who objects to O'Brien's proposal.
It's "being done under the guise of affordable housing," but allowing some more backyard cottages and limiting the size of new houses will "have a minuscule impact on the amount of housing available to anyone."