U.S. Will Lift Steel, Aluminum Tariffs on Imports from Canada, Mexico
Congress was unlikely to approve Trump's NAFTA rewrite while those tariffs were in place.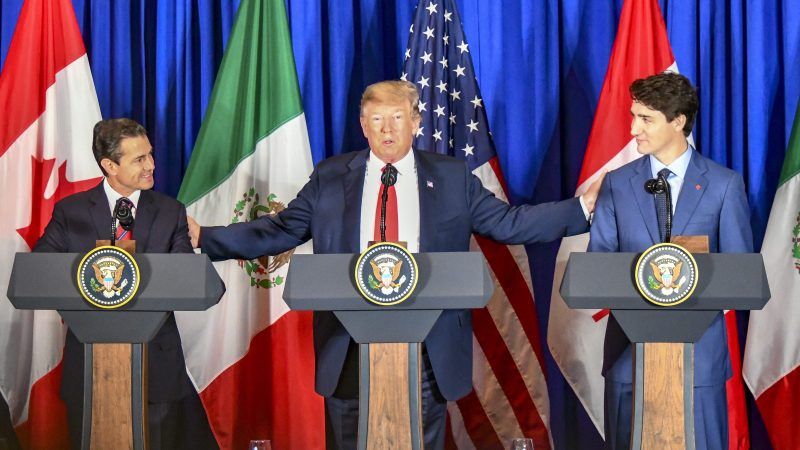 (Ron Przysucha/ZUMA Press/Newscom)
On the North American front, the trade war is over.
The Trump administration reached a deal today to lift tariffs on steel and aluminum imports from Canada and Mexico. In a joint statement, the U.S. and Canadian governments say those trade barriers would be removed within two days, as would the tariffs on American agricultural products that Canada imposed in retaliation.
"It didn't make a lot of sense to continue to have steel and aluminum tariffs on products that move between our two countries," Canadian Prime Minister Justin Trudeau told reporters this afternoon.
Abandoning the tariffs on Canadian and Mexican metals should improve the prospects that Congress will pass one of President Donald Trump's major trade priorities: the United States-Mexico-Canada Agreement (USMCA).
Republicans, in particular, had been hesitant to support this NAFTA rewrite unless the administration first lifted those barriers. Senate Finance Committee Chairman Chuck Grassley (R–Iowa) put it bluntly in an op-ed that ran in The Wall Street Journal last month: "There is no appetite in Congress to debate USMCA with these tariffs in place."
The deal struck today should bring some relief to the hundreds of American businesses harmed by the tariffs. Prices for steel and aluminum—even steel and aluminum produced in the United States—spiked after Trump's tariffs went into effect, forcing downstream businesses and consumers to absorb those higher costs. From automakers (such as Ford) and manufacturers of heavy machinery (such as Caterpillar) to small companies that make beer kegs, nails, and industrial parts, the pain was widespread.
The deal was lauded on both sides of the U.S.–Canada border. Thomas J. Donohue, president and CEO of the U.S. Chamber of Commerce, issued a statement saying it "delivers a welcome burst of momentum for the USMCA in Congress." Jean Simard, president and CEO of the Canadian Aluminum Association, says the deal will put "an end to the harmful uncertainty that is impeding the development of the Canadian and North American aluminum industry." He specifically thanked Grassley for helping make the agreement happen.
Meanwhile, tariffs on steel and aluminum from China and other countries remain in place. The deal between the three North American countries contains a provision that will block Chinese metal from being shipping into the United States via Canada or Mexico. And the Trump administration recently escalated that part of the trade wars by increasing tariffs on about $200 billion of Chinese imports and threatening more tariffs in the coming weeks.
Today's action, then, is probably best understood as sign that Trump's trade wars are shifting rather than winding down. Faced with a greater degree of opposition over tariffs imposed on America's two closest neighbors and key trading partners, the administration retreated. But with China, members of Congress have been more willing to give the administration a free hand, even when they have criticized specific tactics.
And so, nearly a year after it began amid threats of blowing up NAFTA, Trump has ended his trade war against America's neighbors in order to improve the prospects of keeping their trade union intact. Whatever happens with China, repealing the tariffs on Canadian and Mexican steel and aluminum is a win both for free trade and for common sense.